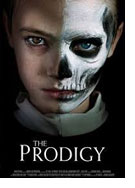 Opening 7 Feb 2019
Directed by: Nicholas McCarthy
Writing credits: Jeff Buhler
Principal actors: Taylor Schilling, Brittany Allen, Jackson Robert Scott, Colm Feore, Peter Mooney
Children in Horror movies – a sane person's nightmare! From the beginning, we know what is going on. When a match cut, straight from textbook, connects how a Criminal Minds-like psychopath is killed by a SWAT Team, and the birth of little baby boy Miles with blood marks/spots where the psycho-killer was fatally shot, it's not a work of genius to guess that we might be dealing with a case of reincarnated horror.
Miles (Jackson Robert Scott) grows up to be a very smart boy whose intelligence is "off the chart". Raised in the very-loving Blume family with mother Sarah (Taylor Schilling) cherishing her little genius and trying to provide the best circumstances for the child prodigy.
When her son starts to show the first signs of shift in his behavior from loveable cutie pie to apathetic psychopath, Sarah seeks professional help and is introduced to Arthur Jacobson (Colm Feore), an expert in reincarnations. Analyzing a recording Sarah took of Miles speaking in his sleep having, what seemed to be, a nightmare, it reveals most disturbing insights on what or, rather who, might be wrong with Miles.
The only scary and maybe new element here is that we are not talking about some demon or supernatural spirit taking possession of innocent little Miles, as is the case in horror classics like The Omen or Rosemary's Baby -- but a normal human being that is the monster. Scary enough. Even scarier when the "host-body" is cute little Miles. Jackson Robert Scott is brilliant in his ambivalent portrayal shifting from innocent poster-child Miles to stern-staring psycho.
This movie does not necessarily provide unforeseen shocking scenes. The plot is very predictable, and we are not the least surprised about the few sprinkles of shock up until the last scene. However, disturbing horror children make me shiver and this film did haunt me for some time to be totally honest with you. (Karen Eve Malinowski O'Shaughnessy)