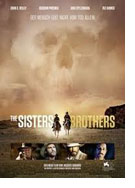 Opening 7 Mar 2019
Directed by: Jacques Audiard
Writing credits: Jacques Audiard, Thomas Bidegain, Patrick DeWitt
Principal actors: John C. Reilly, Joaquin Phoenix, Jake Gyllenhaal, Riz Ahmed, Rebecca Root
In this comic western Eli Sisters (John C. Reilly) and Charlie Sisters (Joaquin Phoenix) are hired by the "Commodore" in 1851 to catch up with prospector Hermann Kermit Warm (Riz Ahmad) and kill him for stealing. The hunt leads the Sisters Brothers on the long journey from Oregon down to San Francisco and beyond to Goldrush country. John Morris (Jake Gyllenhaal) is sent ahead as a scout to ease the search but, when he gets to know the idealist Warm and finds his intellect compatible to his own, he decides to join forces with him in finding gold.
In the meantime the two brothers are traveling hard and also talking more to each other than they ever did before. Charlie, the ruthless drunk, and Eli, the gentle soul who dreams of a normal life, ramble and philosophize in an articulate manner, that we don't usually associate with scrupulous killers. After all, it was pure circumstance that led them to this life of killing. Very funny sequences in the movie are when Charlie experiences new-fangled inventions like toothbrushes and flush toilets. We revel in his childish delight. When the four men finally do meet up they are on different sides, but the prospect of gold is too tempting and their fate(s) are decided. (Thelma Freedman)


Second Opinion

The notorious Sisters brothers' string of corpses ensures they have a reputation to uphold and which Charlie (Phoenix) boastingly promotes. Just as Eli's (Reilly) nature is one of curiosity and other affairs. As one project ends, the Commodore (Rutger Hauer) gives them another; presently, it is to find a gold miner. Concurrently, John Morris (Gyllenhaal) keeps a travels diary: 15 May, Myrtle Creek, Oregon, 1851… is about how the gold rush makes detective work easier. Fortuitously, he and the quarry—traveling in the same direction, of course—make acquaintance. They even strike up a friendship, of sorts. Hermann Kermit Warm (Ahmed) is a scientist and talks about a fail-safe, moneymaking invention he is eager to test. It is not until the brothers pass through, and meet Mayfield (Root) that their apparent temerity brings forth an unanticipated windfall. Henceforth, in California the brothers plan and plot, from "Babylon" to Folsom Lake. When the four do cross paths, circumstances prevail with the startling result they become unlikely compadres. Until, that is, the starry night of greed.
Director-co-writer (with Thomas Bidegain, Patrick DeWitt) Jacques Audiard's script has fine parallels and takes unexpected detours from its attention-getting commencement to its moving conclusion. Background information steadily oozes forth between action scenes; especially important for understanding the Sisters brothers is how/why they became who they are. Reilly and Phoenix initially seem like an odd combination, but they fill their character's boots estimably.
Audiard imbues his film with a je ne sais quoi that defies normal interpretations of the American West. Alexandre Desplat's sparsely inserted music is magical, while Benoît Debie's cinematography embraces rolling, sun-dappled open vistas and snowcapped mountains, rugged rock strewn creek beds, and the populace, often up close and personal; location filming was in Romania, Spain and France. Editor Juliette Welfling's sense of timing is commendable. Now that we are well acquainted with Charlie and Eli, as the film winds down we get a mighty good notion of who The Sisters Brothers might become. (Marinell Haegelin)


Third Opinion

Eli Sisters (John C. Reilly) and Charlie Sisters (Joaquin Phoenix) are a pair of infamous assassin brothers in this 1851 western based on Patrick deWitt's prize winning 2011 historical fiction novel of the same name. Killing on behalf of their fearsome Oregon City boss, the Commodore (Rutger Hauer) is all the life the Sisters Brothers have known since running away from home and their abusive father.
Their newest job, tracking down Hermann Kermit Warm (Riz Ahmed), a chemist and gold prospector who has developed a formula that illuminates gold in the river for easy collection, has Eli questioning the direction his life is going and contemplating leaving the business. However, Charlie, who loves nothing more than checking his name recognition while he gets drunk in a saloon, has absolutely no desire to leave the hired gun life behind.
In this frame of mind, the brothers set out through the Oregon mountains and into a newly minted San Francisco on the heels of another Commodore hire, John Morris (Jake Gyllenhaal), who was sent ahead to trail Hermann and help deliver him to the Sisters Brothers, who have the job of torturing the secret formula out of him.
Instead of following these orders though, John is inspired by Hermann to partner with him in his gold prospecting and along the way convinces the brothers to join their cause as well. What ensues is not anything the brothers could have foreseen as they embark on a journey that will change them in ways unimaginable and test their brotherly bond like never before. (Adelina Gonzales)