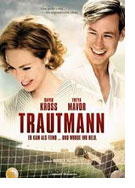 Opening 14 Mar 2019
Directed by: Markus H. Rosenmüller
Writing credits: Markus H. Rosenmüller, Nicholas J. Schofield
Principal actors: David Kross, Freya Mavor, John Henshaw, Chloe Harris, Harry Melling
Trautmann is a heartwarming WW II movie, as heartwarming as any WW II movie can be. It is based on the true story of Bert Trautmann (David Kross) a German POW who refuses repatriation back to Germany in 1948 to stay in England with his sweetheart Margaret (Freya Mavor) and play football in his adopted country.
Blond, blue-eyed handsome with Nordic good looks, a fantastic goalkeeper, and a nice guy at that, how could the shopkeeper's daughter Margaret living in the small village of St. Helens, not fall in love with Bert. Her father Jack Friar (John Henshaw) sneaks him out of a Lancashire prison camp to play in goal for a struggling local club. Little did wheeler dealer Jack know what he has unleashed.
Trautmann's life has fairytale elements. His good fortune however is balanced with an almost unbearable tragic death intensified by haunting wartime flashbacks. There are some twists and turns along the way including public outrage with the discovery of his Eiserne Kreuz (iron cross) for service to the Nazis. Anti-German sentiment runs rampant until a local rabbi convinces the fans to accept that the war is over and a German is welcome to play in the league.
Bert Trautmann later becomes a national hero, the renowned Manchester City goalkeeper who plays to the end of the 1956 FA Cup Final despite having broken his neck. Director Marcus H. Rosenmüller has given us this feel-good film, exactly what we need right now. (Pat Frickey)


Second Opinion

In Trautmann, director Hans Petter Moland neatly joins two short opening sequences' incongruent unlikelihood, thereby beautifully spotlighting football legend Bert Trautmann. Bert played 545 matches for Manchester City, and won the hearts of the British nation in 1956 by playing wholeheartedly, although injured, to secure the FA Cup Final. Albeit, when Trautmann arrived in England he walked under a dark, restrictive shadow.
It is 1944, and Bert arrives as one of many captured German soldiers sent to a prisoners-of-war camp in Leischeere, England administered by brusque Sergeant Smythe (Melling). But for chance, grocer Jack Friar (Henshaw) would have missed seeing the prisoners playing soccer, just as Margaret's (Mavor) encounter, just to prove a point, might never have occurred. Instead, as coach of the local team Jack is hell-bent on his lads winning the season finals. His goalie (Michael Socha) does miserably during practice, so Jack changes course; Bert is introduced to the team as a fait accompli. Working at the Friar's business, when the war ends Bert's tenure extends in a work program until repatriation. Meanwhile, word travels fast; "Man City's" Jock Thompson (Gary Lewis) pokes around, and lives are changed forever.
The biopic's cast balanced performances add substance: Kross' appealing interpretation of his character's loyalty, high moral stature—sans one well-hidden discrepancy, and love of the game; Henshaw as the pragmatic Jack, is reflected in Mavor's performance: strong-mindedness and honesty combined with Mrs. Friar's (Dervla Kirwan) womanliness. As Margaret's kid sister Olivia-Rose Minnis exudes pubescent open-mindedness, Lewis as the honest broker, Karl Markovics the unprejudiced Rabbi, et al.
Cinematography (Daniel Gottschalk) and music (Gerd Baumann) atmospherically enliven the film, as does Alexander Berner's editing pace and deft addition of archival footage. Trautmann, more warmhearted drama than sports film is about how decency, moral fortitude, and backbone can, with time, put right wrongful misconceptions. (Marinell Haegelin)