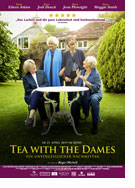 Tea with the Dames – Ein unvergesslicher Nachmittag (Tea with the Dames)
U.K. 2018
Opening 25 Apr 2019
Directed by: Roger Michell
Writing credits:

Once a year four irascible friends get together. Most recently, Roger Michell and filming crew joined them, whereby we tag along. There may be nothing like a dame, until four grand Dames of theatre, film, and television have tea in the garden of a cottage: Dames Eileen Atkins, Judi Dench, Joan Plowright and Maggie Smith. Shared recollections characterize their camaraderie in the warmth, honesty, and understanding of uncomplicated candor and no holds barred confabulations.
Maggie and Judi met in 1958 while performing in Edinburgh, Scotland. Starting dance classes at three, by seven Eileen danced regularly for dancing club's audiences, whereas trained at London's Old Vic (Theatre School) Joan recalls director Michel Saint-Denis. Two of the Dames express amusement about not waiting for the Sixties to sanction rebellious behavior. Reminiscing navigates playing Cleopatra, i.e. being sexy, marriages, critics, naturalizing Shakespeare's language, Laurence Olivier (Peggy's husband), religion, swearing, and times at the "half way house" cottage with "very small people running around." The crème de la crèmes' word play, and implied innuendos by nuanced vocal inflections displays phenomenal command of English language subtleties. Game to tackle any topic, only when Roger ventures "age" does Judi's response hit a timbre of exasperation. While talking about their appointments to Dame Commander (DBE), we see BBC archival footage.
Editors Mark Bell and Joanna Crickmay nicely mix footage, stills and archival material, natural sound (Andy Hoare), and the music (Anne Miller) is balanced, embracing. Eben Bolter's camerawork is inclusive and temperate. Fascinatingly informative, witty yet reflective, Tea with the Dames is smart, delightfully brilliant, and too short—I cannot remember ever laughing aloud so much, and so hard during a film. Just as the British monarch bequeathed each great lady her title, Michell is bequeathing millions with this jewel of a documentary. (Marinell Haegelin)