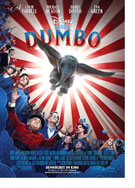 Opening 28 Mar 2019
Directed by: Tim Burton
Writing credits: Helen Aberson, Ehren Kruger, Harold Pearl
Principal actors: Colin Farrell, Michael Keaton, Danny DeVito, Eva Green, Alan Arkin
"You haven't seen anything if you didn't see an elephant fly".
In Disney's effort to turn its fantastic animated classics into real live action features, it's now Dumbo's turn, following the Jungle Book, Sleeping Beauty (Maleficent), Beauty and the Beast and others.
Dumbo is born into the circus of Max Medici (Danny DeVito), in a time when having the circus in town was the highlight of every children's year. Yet, sales have been staggering and Max is relying on this baby elephant to draw a bigger audience into the circus tent. Holt Farrier (Colin Farrell), whose circus horses had to be sold while he was serving in the war, is now responsible to make the elephant show a spectacle. When it turns out that the most spectacular thing about Dumbo are his "jumbo" ears, with "a face only a mother could love", Dumbo is reassigned to the Clown's brigade.
Milly (Nico Parker) and Joe (Finley Hobbins), Hold's children discover that the pachyderm can actually fly with his big floor-dropping ears and take care of being his trusted friends in the adventures to come when the sneaky businessman Vandavere (Michael Keaton) arrives, bringing the prospect of a fabulous life for all the circus buddies to perform in his extravagant "Dreamland" on Cony Island, while Dumbo is supposed to be the main attraction there.
When you go to see a Tim Burton, you get a Tim Burton, with all it entails. You get the darkness, the melancholic mood, you get a fantastic Elfman score, exaggerated backdrops created in amazing detail with futuristic flair and his who-is-who favorite actor-portfolio. Dumbo is Burton brilliance par excellence.
The original Dumbo from 1941 (selected for preservation in the National Film Registry in 2017) is a very sad story about an isolated baby elephant, parted from his mother and so terribly naïve, and only the sidekick mouse Timothy being his friend, protecting him from the evil world, or better, evil people.
In the newlive-action adaptation, the negative sentiment is fabulously translated into 2019, and the colors and its atmosphere fill up with a gasp of darkness. From the beginning on we feel that Dumbo is not a happy film.
Many references to the 1940's Dumbo have been developed to fantastic, visually and audibly exciting firecrackers, like the mysterious pink bubble scene, or Danny Elfman's nod to recurring soundtrack pieces from the Academy Award winning score of '41.
An essential idea to make Disney's new remakes worth being retold in a new format is to give it more depth, more insight to the psychology of the protagonists, than the original mere cartoons could have achieved, especially with 1941's Dumbo only being 1h long.
Therefore, we are introduced to the Farrier Family, who will be Dumbo's trusted friends. However, their family story does not tickle enough sympathy for us to want to share the screen time between Dumbo and Colin Farrell.
The plots around Baby Dumbo and his Mother, Mrs. Jumbo, and the one with the struggling real people seem to compete with each other, especially in the first half of the movie. Dumbo's more moving story seems to be demoted to the sideshow of this circus. Too bad, we came to see the baby trunk.
The people in Dumbo's life are seemingly true friends, but when everyone roots for Dumbo and exclaims very positively and Instagram #motivationmonday-worthy: "You can do it" or "believe in yourself", it cripples to their own fear and hopes Dumbo could fulfill, not for the sake of the little cutie-pie himself, but for their own personal advantage. Also, Disney's attempt at giving us a lesson on animal-cruelty, does not pan out as well as they were probably hoping for.
A visually spectacular event, everything a Tim Burton promises, this elephant delivers, however, though I was so ready to give this long-anticipated film 5 Stars, the undeveloped, human story, promising us that a couple of good words and good intentions can make this world a better place seem too forced to be a real Disney-heart warmer.
You will gasp, you will root for little Dumbo 2019 as I have, and you might even shed a tear or two – but I didn't. Sadly, at least one tear is essential in the recipe of the full Disney magic experience. (Karen Eve Malinowski O'Shaughnessy)


Second Opinion

More than seven decades ago the story Dumbo the Flying Elephant was written by Helen Aberson and Harold Pearl to be produced for a Roll-A-Book, which is a box with little knobs that readers turned to read the story through a window. At that time, an impressionable Walt Disney purchased the rights to the story and published 1,430 copies of a book-version of their tale.
On October 23, 1941, Walt Disney released the story onto the big screen as a 64-minute animated feature-length film starring none other than DUMBO himself. The narrative is told from DUMBO's perspective while the humans in the story remain background characters.
The 2019 Disney release of DUMBO as a live-action feature film using CG (computer graphics or CGI, i.e., computer-generated imagery) expands the original plot collaborating with the creative and artistic directorial talent of Tim Burton. His version using an all-star cast puts the human characters at the center of storytelling. Together these people share in an exhilarating adventure of a baby elephant, which once deemed a social outcast, becomes a star. Burton says, "It is a very sweet story." He adds, "The idea of a flying elephant is such a simple story. I think that's why it is quite popular."
Award-winning actor Michael Keaton (V.A.Vandevere) adds that, though the theme is simple, it's also relatable. He says, "It's about family. My character Vandevere never really had a family, and deep inside, that ate him up." It was the one thing his money could not buy, a family Medici created.
Screenwriter Ehren Kruger was determined to maintain the heart of the original film but to make a live-action narrative one would have to have a broadened storyline. He had to go deeper to create a relatable backstory and asked himself, "I wondered if Dumbo were a real flying elephant in an actual circus in the golden age of circuses, how would he affect the people existing in that world?" Adding, "I wanted to explore how the people in the circus world would relate to Dumbo's journey." He concludes, "Dumbo resonates with us because we are all flawed in some way, yet Dumbo shows us that sometimes those flaws are what make us special."
Synopsis:
The Medici Brothers traveling circus falls on hard times during World War I and struggles to make ends meet. Max Medici (Danny DeVito) purchases an expectant mother elephant in hopes that her baby will be the adorable act needed to bring in the crowds necessary to boost revenue.
The offspring is born and is adorable but has unusual physical features namely his ears. They are giant size. Medici is furious with the man who sold him the mother and demands a refund. For a price, the mother is returned but Medici is left with the baby. His hope for a crowd-pleasing spectacular act dwindles.
Medici's horse-act star, Holt Farrier (Colin Farrell) went to fight in the First World War leaving his wife and two children to carry-on their existence within the circus family in his absence. Holt returns to find his life as he knew it dramatically changed. His wife died, he lost his arm in battle thus looses his horse-riding career and doesn't know how to connect with his two children, Milly (Nico Parker) and Joe (Finley Hobbins).
Grateful to Medici for caring for his family in his absence Holt takes the job to care for the elephants. It's not his idea of the ideal position until his children get involved. They have a secret to share.
Milly and Joe befriend the baby elephant and discover that he has extra ordinary talents using his gigantic ears that could be of benefit to the circus and the people it supports. Dumbo, the baby elephant, can fly!
The journey of Dumbo the flying elephant begins. Medici is thrilled to have finally the act of a lifetime to save his circus family from it's demise. The fame of Dumbo draws entrepreneur V.A. Vandevere (Michael Keaton) to check out this phenomenon and to persuade Medici to join his state-of-the-art amusement utopia, Dreamland in order to give the Medici circus family a better life. But, in reality Vandevere has other plans.
Dumbo the flying elephant is more than a famous circus star. He's an unsuspected hero that unites family ties and brings a deeper meaning to the institution of family. (Karen Pecota)