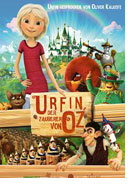 Urfin, der Zauberer von Oz (Journey to Oz, Urfin Dzhyus i ego derevyannye soldaty)
Russia 2017
Opening 16 May 2019
Directed by: Fyodor Dmitriev, Darina Shmidt, Vladimir Toropchin
Writing credits: Aleksandr Boyarskiy, Jeffrey Hylton, Joe Vitale, Aleksandr Volkov
Principal actors: Konstantin Khabenskiy, Kate Bristol, Dmitriy Dyuzhev, Haven Paschall, Mike Pollock
This Russian-made film is essentially an animated adaptation of the MGM classic, The Wizard of Oz, from 1939. It opens with a scene with a very shy and suspicious young boy, who is apparently painfully shy and wary of other people. A young girl (who we later find out is the young Dorothy) tries to give him a present, but when he notices other children snickering he becomes hostile. Sadly, it's not clear at this point why he's so negative.
Abruptly the scene changes to the Munchkins dancing and celebrating while a now-adult Urfin complains about the noise and merriment. Magic seeds blow onto his field and rapidly grow into weeds that Urfin struggles to cut down, only to have them regrow and multiply immediately. He soon realizes the seeds power and uses them to create an army of wooden soldiers to conquer the innocent munchkins in the neighboring village. He is accompanied by a small wooden clown and a bear-skin rug, which are both accidentally animated by the magic seeds.
Meanwhile, and somewhere entirely different, a young girl and her dog are going through her grandmother's wardrobe, where they discover silver slippers which transport them to Oz, where Urfin's army of oversized wooden soldiers are just beginning to wreak havoc on the small inhabitants living there. We find out this little girl is the original Dorothy's granddaughter accompanied by her dog, Toto). Dorothy (2.0) finds the wooden soldier more comical than menacing and wastes no time tricking them to fall into hard to escape places and taunting them.
She soon follows the yellow-stone path Urfin and his army have taken to a nearby village to defeat the ruler there – who is none other than the Scarecrow. There are many twists and turns in a very convoluted plot – including rusting out the Tinman, setting the wooden soldiers aflame and a battle royal between the inhabitants of the Scarecrow's kingdom and Dorothy and her friends.
This remake doesn't provide anything new or engaging to warrant its production. The animation is average, if not lackluster, the text unimaginative, and the plot is rambling and drawn-out. Actually, too many to different things happened at once to keep straight in my adult head, however I must admit that young minds seem to be enraptured by this other world and found the movie quite entertaining.
The film gives a nod to "girl power" with the Young Dorothy being pegged as the heroine of the story. But the plot relies too heavily on the original and doesn't give much back in return. Plus, too much is left the imagination as to why and how this all comes to be. Of course, the producers leave the door wide open for a sequel, because the open ending does not explain what happens to the characters after Dorothy successfully gets away thanks to those sparkling silver slippers.
I am sadly still not convinced that this is a story that need to be retold in this way. It brings to life the story of a children's book by Alexander Wolkow, who wrote the story in two weeks. But in the end, fantasy is the stuff of children, and this film requires a great deal of imagination (and patience!) to follow it down a gilded path to the end. (Ericka Seifried)


KidKinoKritiks
I recommend " The Fantastic Journey to OZ". It's a nice story where a girl from Kansas called Dorothy finds silver shoes, and with her dog Toto she is magically transferred to the World of OZ. Without Dorothy noticing it, Urfin was about to conquer OZ with an army of wooden soldiers he made using magic powder! After revealing the truth to the lion king and a great tragic fight between Urfin's army and the villagers of Oz, Dorothy and Toto get home. Sadly, the movie has a bad ending – we don't really find out what happens to all the characters. It ended too soon! (Felix Seifried, age 9; ****)
The story "Fantastic Journey to OZ" is a mix of 2 books and a film director interpretation. The evil Urfin is not friendly with anyone and envies his happy and good-natured neighbors. Once he discovers a magic weed and creates an army of wooden soldiers to conquer the Emerald City.
Meanwhile, in Kansas, a girl, Dorothy, discovers in her closet the silver shoes from her Grandma, which transfer her and her clever and brave dog Toto to the extraordinary land of OZ, where she needs to help her friends to save the land from the army of great and terrible Urfin.
The characters are memorable and lovable (even the villain Urfin and his sidekicks). I would recommend watching this family cartoon about good and evil, betrayal and friendship. (Stefan P, age 9; ****) (the KinoCritics)