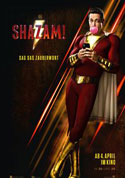 Opening 4 Apr 2019
Directed by: David F. Sandberg
Writing credits: Henry Gayden, Darren Lemke, Bill Parker, C.C. Beck
Principal actors: Zachary Levi, Mark Strong, Asher Angel, Jack Dylan Grazer, Adam Brody
Warner Brothers and New Line Cinema set the DC Universe on a course for a silver screen success with their unique comedic family-friendly adventure in SHAZAM, under the direction of filmmaker David F. Sandberg. "Every kid dreams about being a superhero," says Sandberg. "In the world of our story, where Superman and Batman exist, Billy Batson is a kid who basically gets that wish." He adds, "But for Billy, there's a twist--he doesn't just get the super-powers, he becomes an adult---on the outside, at least--with a power-laden name: SHAZAM that stands for the wisdom of Solomon, the strength of Hercules, the endurance of Atlas, the power of Zeus, the fighting abilities of Achilles and the speed of Mercury."
In collaboration with storytellers Henry Gayden and Darren Lemke, who base their characters from the DC Universe where Shazam was created by Bill Parker and C.C. Beck. Gayden and Lemke write a script specifically to be uniquely action-packed and lighthearted from the comics they read from creative artists such as, Geoff John's New 52, or from The Power of Shazam from Jerry Ordway, from the 1990s and more. Gayden recalls, "I enjoyed writing the script from the perspective of a kid, channeling the logic of a 14-year-old who suddenly has all these powers and who's not thinking, 'How can I save the world,' but, 'What cool stuff can I do?' "
Actor Zachary Levi (Shazam-Bill Batson adult) says, "Yes, it's about Billy Batson becoming Earth's mightiest mortal and defender just in time to meet serious supernatural evil." He continues, "He needs to learn how to defend against it but it's also a great coming of age story." Adding, "It speaks to the hero's story, to the kids' story to the family's story and baked in the DNA of it is the humor and the heart. Billy Batson is stoked making Shazam one of the few superhero characters in all the comic universes that's genuinely thrilled to be a superhero."
SHAZAM is a a breath of fresh air to family entertainment. Sandberg brings to light a storyline with characters that are relatable as well as, commissioning superb acting to give the film audience a visual experience that is not a waste of time. One will simply smile when the word SHAZAM is uttered because it's that word that will recall so many funny scenes accompanied with endearing charm and heart.
Synopsis:
Fourteen-year-old Billy Batson (Asher Angel) is a foster child. He's been in foster care since the age of three after being tragically separated from his mother during an outing to a city-wide Carnival. Deemed a foster-kid delinquent because he runs away from one foster care family after another trying to locate his mother because that's who he thinks he needs, but every attempt ends in disappointment.
Legally Billy is the ward-of-the-state and bound to stay in foster care until the age of eighteen. Forced to give yet another family a chance, Billy reluctantly enters a group home sponsored by a loving couple, Rosa and Victor Vasquez (Marta Milans and Cooper Andrews) who currently raise four other foster children. Billy's new siblings, Darla Dudley (Faithe Herman), Mary Bromfield (Grace Fulton), Eugene Choi (Ian Chen), Pedro Pena (Jovan Armand) and Freddy Freeman (Jack Dylan Grazer), enlighten him on many subjects. Freddy is a Superhero fanatic and attempts to educate Billy on the adventures of such characters but Billy isn't interested. Until, Freddy shows Billy his rare silver bullet that is worth some money. Billy's ticket to freedom!
In another world, beings with super natural powers over good and evil are at battle to find the perfect successor to their magical throne. The Wizard (Djimon Hounsou) is looking for his champion, his chosen one, to pass on his goodness to rule the universe who displays purity of heart and is strong in spirit. The Wizard's powers must be transferred before he dies.
The Super-Villain, Dr. Thaddeus Sivana (Mark Strong) once in line to be the Wizard's chosen one, fell prey to the desires of control and envy pursuing the Wizard's power. Supported by the ghosts of the seven deadly sins together they must eliminate the Wizard's chosen one, Billy Batson, if they seek to control the universe.
Billy is magically summoned by the Wizard and explains what he is entrusting to Billy. Totally freaked, Billy wants out and truthfully knows he is not the person the Wizard describes as the chosen one. Fearful of the Wizard, Billy is respectful and is obedient to follow his instructions which takes him into a Superhero world he knows nothing about except that crazy things happen when he speaks the word SHAZAM!
Freddy and Billy (Asher Angel and the older titular DC Superhero, Zachary Levi) embark on the adventure of a lifetime having so much fun discovering the powers of an inexperienced Superhero. Freddy is Billy's mentor on the functions of a Superhero until Billy's arrogance takes over. It's through trial and error of what powers behold Billy that make for a delightfully comedic journey to save himself and his planet from evil. (Karen Pecota)