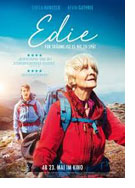 Edie – Für Träume Ist Es Nie Zu Spät (Edie)
U.K. 2017
Opening 23 May 2019
Directed by: Simon Hunter
Writing credits: Simon Hunter, Edward Lynden-Bell, Elizabeth O'Halloran
Principal actors: Sheila Hancock, Kevin Guthrie, Paul Brannigan, Amy Manson, Wendy Morgan
Life can give people a nudge in the oddest ways. For Edie (Sheila Hancock's performance is awesome), it happens when she finds a long forgotten postcard, just as a major life-shift occurs. Three yeas on, after a confrontation with daughter Nancy (Morgan), that postcard surfaces again. A café owner's remark, "It's never too late …" resonates, and she takes action. If ever Edie weakens, fate thrusts an opportunity in her way.
She bumps into a young couple (Amy Manson, Kevin Guthrie) in Inverness, Scotland and then Jonny helps. Arriving early in Lochinver, she nevertheless finds accommodations, and buying hiking gear, McLaughlin's (Brannigan) anecdotes come with an endorsement. Told of Suilven Mountain's perils, a trainer/guide emerges and to both their surprise, Edie hires Jonny. Initially testy, by degrees competition neutralizes their contention. For Edie, it feels strange to unpack her "wild child," when skills and sociability are dusty from disuse; Jonny's skepticism arises from Fiona's costly plan. Finally, the fledgling is ready to fly and, her goal within reach, Edie's determination stiffens. Until, she has a challenging wake-up call. Consequently, friendship forges the trail.
Director Simon Hunter's wonderful, refreshing, and invigorating film's screenplay is by Elizabeth O'Halloran and based on a story by Edward Lynden-Bell. It juxtaposes one person on the springboard of life with all the excitement that offers in years ahead, and the other person in her twilight years who looks backward more than forward. Straightforward in all aspects, Hunter coaxes candid performances from cast. Hancock and Guthrie's amazing performances exude simpatico onscreen chemistry that is endearing to watch.
Debbie Wiseman's music conveys what is unspoken, while August Jakobsson's cinematography is a window into particularly Edie and Jonny's thoughts and feelings; a brilliant scene is Edie waking in a hut to an apparition's (Calum Macrae) silent kindnesses. Olly Stothert's editing is instinctive, and spot on. Rarely does a film leave audiences wishing it had lasted longer, but Edie is one such film. Audiences are left to fill in the blanks; for me, one thing is certain — neither Jonny nor Edie would continue following the roads they were on. (Marinell Haegelin)