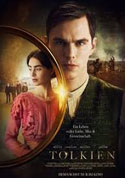 Opening 20 Jun 2019
Directed by: Dome Karukoski
Writing credits: David Gleeson, Stephen Beresford
Principal actors: Nicholas Hoult, Lily Collins, Derek Jacobi, Anthony Boyle, Patrick Gibson
In 1937, John Ronald Reuel Tolkien's fantasy novel, The Hobbit (originally written for his children), was published to great success. It captured extensive reading audiences' imaginations, young and old. Seventeen years later, Lord of the Rings trilogy was published; after its cinematic inception was released (2001 – 2003), global recognition soared. A trilogy of films based on The Hobbit followed from 2012 – 2014. Dome Karukoski's film is, however, about the creator of these novels, who was as phenomenal as his work is unforgettable.
Tolkien examines phases of the author's life that were complicated, and grim. Orphaned at fifteen, Ronald (Harry Gilby) and brother Hilary (Guillermo Bedward) subsist on others handouts and kindnesses through their guardian, Father Francis (Meaney). It is at Mrs. Faulkner's that the brothers meet another talented resident, Edith Bratt (Mimi Keene). When stuck in a privileged school, Tolkien and fellow misfits (Adam Bregman, Ty Tennant,Albie Marber) forge a fellowship. That friendship carries Ronald (Hoult), Geoffrey (Boyle), Christopher (Glynn-Carney) and Gilson (Patrick Gibson) through World War I; Ronald survives combat action with Sam's (Craig Roberts) help, but carries entrenched scars. Edith (Collins), his lifelong love, steadfastness and goading was the encouragement that keeps Ronald's passion for fantasy alive.
David Gleeson and Stephen Beresford structure their screenplay around facts, with slight deviations and omissions, e.g., why Mrs. Tolkien was at the church's mercy. The cast is sterling; the two-tiered protagonists seamless portrayals from adolescence to adulthood are outstanding; Genevieve O'Reilly portrays the boys' creatively influential mother. Grant Montgomery's production design is outstanding. Lasse Frank Johannessen's rock-solid cinematography fires imaginations as to how early 19th century Birmingham and England´s architecture, and its surroundings must have influenced Tolkien's imagination that Thomas Newman's music accompanies.
Director Karukoski undertook a daunting quest to convey Tolkien's complex background to audiences. Tolkien was equally ardent about language and philology, his literary and academic careers and was quite an artist. It is impossible to fit all that in one film, so the focus of Tolkien is well-intentioned, although Harri Ylönen's editing gets lost on the battlefield, which is also too graphically conveyed considering this is J.R.R.'s story, for goodness sake. Understandably, now that Karukoski has brought people's attention to J.R.R. Tolkien, other filmmakers will follow and we can only wonder why it took them so long. (Marinell Haegelin)