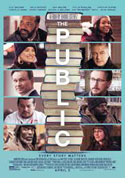 Ein Ganz gewöhnlicher Held (The Public)
U.S.A. 2018
Opening 25 Jul 2019
Directed by: Emilio Estevez
Writing credits: Emilio Estevez
Principal actors: Alec Baldwin, Taylor Schilling, Emilio Estevez, Jena Malone, Christian Slater
In April 1833, the first free public library in the world was founded in New Hampshire. Libraries throughout the United States during the 19th and early 20th centuries were recognized as agencies worthy of taxation, alongside librarians establishing the American Library Association with its many divisions, including the Public Library Service. Nevertheless, the 21st century's recessions, and societal problems have greatly challenged public library personnel and budgets.
Cincinnati is Ohio's third-largest metropolis with a population of 296,943 and the U.S. 65th largest city. Its humid continental climate produces summers with high humidity and warm-hot temperatures; in winter, record lows are −11 °C (−24°F) to −32 °C (−25 °F).
Writer-director Emilio Estevez combines these two facts, adds equal amounts of pathos and politics, a dash of surprises, and sprinkles with humor for a juicy drama about civil disobedience from three distinct perspectives.
The strong cast compellingly depict the contrasting personalities of his/her character: Emilio Estevez/Stuart and Jeffrey Wright/Anderson as librarians with different approaches yet comparable objectives; Alec Baldwin/Ramstead and Christian Slater/Davis as the tough detective and self-seeking politician respectfully, and their antithesis, librarian security guard, Jacob Vargas/Ernesto and Davis political rival Kelvin Webb; Stuart's strong-willed female allies Jena Malone/Myra and Taylor Schilling/Angela, and the lackadaisical news reporter, Gabrielle Union. At the center of the confrontation are men who merely want to survive this freezing night: Michael K. Williams/Jackson, Rhymefest/Big George, Michael Douglas Hall/Smuts, Bryant Bentley/Cactus Ray, Keith McGill/Coleman, Patrick Hume/Caesar, Nik Pajic/'Angry' Mike, Brian Gallagher/Jonah, et al
Interplay among the factions is brilliant: the marginalized, the defenders of the First Amendment's last bastions – libraries, and the self-serving controllers of public opinion. In step with Estevez's position are Juan Miguel Azpiroz's energetic yet reflective cinematography, plus gritty Rap and a 1972 reggae song rounding out Tyler Bates and Joanne Higginbottom's music. Richard Chew and Yang Hua Hu's uneven editing is detrimental to some scenes' impact. To quote our friend Jackson, "[T]hey ain't gonna forget this," – neither will the public forget this film. (Marinell Haegelin)


Second Opinion

If you think that what librarians do is read all day, checkout a few books and tell people to be quiet, then you need to watch this movie. Illustrating one of the challenges libraries face, this film focuses on the number of homeless people who seek sanctuary each day in libraries across the country. During a bitter cold wave, the homeless library patrons decide not to leave one night knowing the shelters are full and a night on the street could be fatal. They are joined in their occupation by one of the librarians (Emilio Estevez) who is sympathetic to their plight. As they barricade themselves inside, the police and a hostage negotiator (Alec Baldwin) are called in to end the stand-off.
Grand-standing politicians and reporters (Christian Slater, Gabrielle Union), more interested in their own ambitions, pitted against the most powerless of our citizens make this more of a classic underdog story as opposed to a tension-filled stand-off situation. One could argue that the lack of tension is a reflection of the lack of concern about a possible negative outcome for the victims who are generally regarded as throwaways. At the heart of this story, though, is that while many agencies are content to ignore or avoid dealing with some of society's issues, libraries step up in a myriad of ways to offer programs and services otherwise unavailable to the most vulnerable and neglected, truly making them a last bastion of democracy. (Anne Crocker)