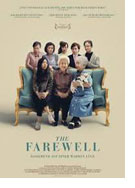 Opening 19 Dec 2019
Directed by: Lulu Wang
Writing credits: Lulu Wang
Principal actors: Zhao Shuzhen, Awkwafina , Tzi Ma, Diana Lin
Based on An Actual Lie. So this film begins.
Perhaps the lie is the one unemployed twentysomethingish Billi (Awkwafina) is keeping from her parents. She has just received a letter that she has been turned down for a Guggenheim Fellowship; this academic failure is a slap in the face to the high-achieving Chinese immigrant daughter. Billi just can't tell her parents the truth about the letter of rejection.
But soon the viewer senses something much larger is looming than a lost fellowship. Billi learns from her parents, father Haiyan (Tzi Ma) and mother Lu Jian (Diana Lin) that her beloved Chinese grandmother Nai Nai (Zhao Shuzhen) has been diagnosed with stage four lung cancer. The family travels from New York to Changchun to say goodbye. There is a secret pact all family members must keep: No one dare tell Nai Nai the truth about the medical diagnosis. "People don't die of the cancer, they die of the fear." Billi struggles to keep up the pretense that their visit is to celebrate her cousin's wedding. Nai Nai is the most important person in her world. Shouldn't she know the truth?
Filmmaker Lulu Wang's movie is based on her own life. She, too, like Billi, immigrated to the States as a six year old; she, too, had a grandmother who was diagnosed with lung cancer. Wang first told the story on an April 2016 episode of This American Life. The radio broadcast/podcast eventually came to life in this heartwarming movie.
Billi is sullen, gloomy, always slouching until she returns to the arms of her devoted grandmother Nai Nai. (The actress Awkwafina is brilliantly cast as Billi, the polar opposite of her role as the zany Peik Linhe in last year's hit film Crazy Rich Asians.) The importance of the failed Guggenheim Fellowship recedes into the background as Nai Nai's zest for life first infects and then embraces an ever more joyful Billi. Two very different cultures clash in The Farewell, happily the message at the end transcends both. (Pat Frickey)