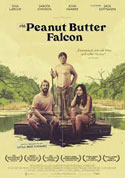 The Peanut Butter Falcon
U.S.A. 2018
Opening 19 Dec 2019
Directed by: Tyler Nilson, Michael Schwartz
Writing credits: Tyler Nilson, Michael Schwartz
Principal actors: Shia LaBeouf, Dakota Johnson, Zack Gottsagen, Thomas Haden Church, John Hawkes
Being kept against his will at a retirement home—because of Down syndrome—Zak's (Gottsagen) passionate about professional wrestling, and specifically The Salt Water Redneck (Haden Church) whose video he tirelessly watches. Aspiring to emulate his hero, the 22-year old is determined to attend Redneck's wrestling boot camp. Equally, Carl (Bruce Dern) is fed up with Zak's infatuation, so helps his roommate escape. Concurrently, Tyler (LaBeouf), a fisherman, is escaping archrival Duncan (John Hawkes) and sidekick Ratboy (Yelawolf) after his stunt backfires. So, both are on the lam from authorities when fate intervenes. In the meantime, Eleanor's (Johnson) personal concern for Zak precipitates taking leave from work to attempt tracking him down, about the time Tyler's early resistance subsides, alongside realizing Zak's usefulness.
Along their quirky journey, and under Tyler's tutelage, Zak learns hunting and gathering, to swim, and imbibe, whereby an unforeseeable bond forms. It strengths at garrulous Blind Jasper John's (Wayne Dehart) while building a raft. Then solidifies sailing the Outer Banks of North Carolina. When Eleanor shows up and with a contrary plan, as one they dig in their heels; with little coercion, she joins the runaway rascals. Still, hard decisions have to be made, and scores need to be settled, but not before dreams are given a chance.
Co-writers-directors Tyler Nilson and Michael Schwartz's debut film is a funny, clever warm-hearted adventure for all ages. At its heart is personal self-confidence, and its soul is an individual's dignity. LaBeouf, Johnson and Gottsagen's chemistry resonates and sparkles onscreen, seamlessly blending with their characters; the seasoned veterans' nuanced, easy performances underscore the film's unconventional disposition. Its atmospheric richness and authenticity displays cinematographer Nigel Bluck's prowess, plus editors' Nat Fuller and Kevin Tent dexterity, and Zachary Dawes, Noam Pikelny, Jonathan Sadoff, and Gabe Witcher's eclectic musical magnetism.
The film's backstory accounts for its originality: the directors wrote the screenplay around Zack after meeting at a camp for disabled in 2011, and learning of his dream to be a movie star. That personal context in his character's archetypical innocence elevates the script, and Zack's personality lights up the film. Along the filmmaking journey, people they knew made allowances regarding permits, payments, and reduced costs for rights to best-known songs used.
Oftentimes, directors must metaphorically represent the story-arch's pivotal point; in The Peanut Butter Falcon, it is unrivaled: the release, the freedom, and the resolution. To quote Carl: Friends are the family you choose. 93 minutes (Marinell Haegelin)