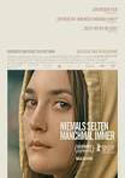 Niemals Selten Manchmal Immer (Never Rarely Sometimes Always)
U.K./U.S.A. 2020
Opening 1 Oct 2020
Directed by: Eliza Hittman
Writing credits: Eliza Hittman
Principal actors: Sidney Flanigan, Talia Ryder, Théodore Pellerin, Sharon Van Etten, Drew Seltzer
The personal is political, as the slogan goes. Rarely does a movie capture this idea as successfully as Never Rarely Sometimes Always. This is a movie that effectively demonstrates how entangled a young woman's lived experience is with the political landscape of 21st-century politics in the US. Yet this movie is not filled with angry, raging feminism or political positions—on the contrary, it's a shockingly quiet movie. Relying on character portrayal rather than exposition, writer-director Eliza Hittman tells the story of one teenager navigating American abortion laws, thereby revealing how difficult they are for women in general.
Autumn (Flanigan) is 17 years old, introverted, and sullen. She lives with her family in a lower-middle class town in Pennsylvania, attends high school, and works as a cashier in a grocery store alongside her cousin Skylar (Ryder). We're only given very spare details of Autumn's world – writer-director Eliza Hittman is a master of minimal exposition and dialogue – but it's clear from Autumn's facial expressions and her limited interactions with others that her world is not a particularly happy place. After visiting a local women's clinic, Autumn confirms her suspicion that she's pregnant. The clinic turns out to be an anti-abortion clinic, and the staff there offer her little advice or help other than making her watch a horrific film about abortion and giving her false information about how far along her pregnancy is. Doing some research on her own, Autumn discovers that the law in Pennsylvania requires minors to have parental permission for an abortion. Unwilling to involve her parents, Autumn confides in Skylar and the two take off for New York City where Autumn can obtain an abortion without parental consent.
The rest of the movie takes place in New York, where Autumn and Skylar find themselves with little money and few options. Because Autumn says so little, her clear resolve to get an abortion is never discussed, which allows the film to focus on the characters rather than political debate. But it also means that Autumn reveals almost nothing to Skylar. Their dynamic is one of unquestionable trust between two young women with few advantages, an understated depiction of the support women find from each other. Skylar attracts the attention of a persistent young man on the bus (Pellerin), who touches her with causal possessiveness – and the camera lingers both on the unwanted touch and Skylar's practiced ability to delicately maneuver in a world in which women are constantly confronted by obstacles and menaces, both grave and banal. Since the dialogue is kept to a minimum, when Autumn does reveal small details about her experiences it is heartbreaking to understand the vulnerability and desperation of her situation, as well as her simple intention to take control of her life on her own terms.
Which brings me back to the idea of the link between the personal and the political. As I write this, in late September 2020, this film feels unbelievably relevant as a testimony to how much is at stake when politics collide with individual lives. The US Senate will likely confirm a replacement for the late Supreme Court Justice Ruth Bader Ginsburg within weeks of her death, and many worry this will open the flood gates to further weakening or dismantling of abortion rights in the US. Hittman could not have known that this would happen in 2020, nor could she have known that a global pandemic would be a reason many states in the US placed temporary curbs on abortions, deeming them "non-essential" in the midst of a health crisis, just as her film was being released in American movie theaters. This is a movie that has gained additional power by highlighting how endless the struggle is for many people, simply by telling a story about one girl and her nearly silent fight for self-determination. (Diana Schnelle)


Second Opinion

The film begins with a song. A rather plain seventeen-year-old Autumn (Sidney Flanigan) dispassionately strums a guitar and belts out a ballad of destructive love at the high school talent show, much to the malicious sniggering of some teenage boys. One calls out SLUT. She pauses, and then resolutely finishes her song. After Autumn's performance her nervousness lingers. Sullen, expressionless yet composed, she clearly has something else on her mind. As scenes of domestic (un)bliss unfold it becomes obvious that her parents, and especially her step-father, are not the ones to share it with. So Autumn turns to her best friend and cousin Skylar (Talia Ryder) who immediately understands her grave plight; Autumn is pregnant and doesn't want to keep the baby.
In Pennsylvania it is impossible for girls under the age of 18 to have a legal abortion without their parent's permission. So Autumn and Skylar pocket some money from the grocery store where they work after school, and head off on a bus to Planned Parenthood in New York City. Innocents from rural America, they walk the streets of the city hoping for deliverance. On the bus they meet Jasper, a nerdy young man (Théodore Pellerin) who takes a real liking to the blue-eyed beauty Skylar, so they swap phone numbers. Was this a grave mistake? Watching these two feckless teenage girls alone in New York City is unnerving; there is always a lingering sense of dread that they are one step away from a terrible fate.
The film is full of silences. Dialogue is scarce in this movie which begins in rural, blue-collar Pennsylvania before moving onto the bright lights of Times Square. Autumn and Skylar have very little need for conversation. They have hardly any money and no place to stay. They are two inseparable friends on a quest inexplicitly schlepping an oversized suitcase around the streets and steps of the city.
In a stirring single shot scene at Planned Parenthood, Autumn is told to answer "Never, rarely, sometimes, or always" to questions about her sexual history. As the counselor's questions become more probing it is clear that Autumn has endured a lot. Her stoic brushed-away tears and darting eyes tell the story of sexual abuse. She hardly says a word.
Never Rarely Sometimes Always is a moving film about an uncomfortable topic. Both the slow, deliberate pace and the power of silence are internalized and embraced by its exceptional actors. (Pat Frickey)