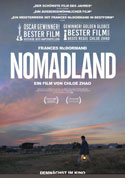 Opening 1 Jul 2021
Directed by: Chloé Zhao
Writing credits: Chloé Zhao, Jessica Bruder
Principal actors: Frances McDormand, David Strathairn, Linda May, Bob Wells, Gay DeForest
Chinese filmmaker Chloé Zhao (born Zhao Ting) possibly understands America's rural poor, and western vistas, better than most natives. The intimacy and understated empathy for society's underprivileged folks distinguishes her filmmaking; in Nomadland, Zhao heads off with a new category of wanderers (trying to) survive in post-2008's financial-crashed America.
Frances McDormand excels as Fern, a feisty widow who leaves husband, and past, buried in rural Empire, Nevada, a bellyflopped company town. Hitting the road in "Vanguard," Fern joins Linda May for Amazon seasonal work, and later, at Linda's recommendation, heads south to Bob Wells' yearly 'Rubber Tramp Rendezvous' (the real McCoy) boot camp. Bob's mentorship builds camaraderie; the travelers trade stuff and practical advice, and learn basic auto repairing, while making new friends. Afterward, Dave (David Strathairn), Swankie, preparing for a revelatory road trip north, and Fern hang around; subsequently, Fern unexpectedly meets Dave at another work gig. When "Vanguard" breaks down, Fern turns to sister Dolly (Melissa Smith) for help. Admitting she thought Fern was "weird and eccentric" growing up, Dolly missed Fern when she left; they do some bonding, too. Moseying westward, Fern embellishes her journeying with breaks to gape at towering sequoias, or stare in wonderment at the pounding Pacific. Her epiphany? Realizing, "I'm not homeless, I'm just houseless, and it's not the same." That and, freedom has its price.
Two-time Oscar® winner Frances McDormand asked Zhao to direct her project because Zhao creates worlds within worlds in her films. Based on Jessica Bruder's non-fiction book that chronicled wanderers, motivated by choice and/or more often economically, Nomadland: Surviving America in the 21st Century, in Zhao's fictionalized script the Fern character undertakes the Everywoman role. Utilizing her trademark tools, Zhao's cast of two, McDormand and Strathairn, plus Zhao's cinematographer-of-choice, Joshua James Richards, follow nomadic trails of Arizona, Nevada, Nebraska, and northern California's rugged coastline. Richards' camerawork stunningly contrasts inside the tiny efficient van, the rover's well-furrowed faces, and awe-inspiring panoramas, as the production team blend into nomads' temporary communities.
Exemplified by McDormand and Strathairn's performances that typify the wanderlust spirit, empathetically and respectfully, non-actors become part of Zhao's story. Particularly poignant scenes are Wells' telling Fern why he organized the RV camp, and Swankie's heart-to-heart about the beauty of nature, and "final exits." Zhao may take (slight) detours, e.g. she's directing a Marvel Studios project, ETERNALS, due for release in 2021, yet there is a heartfelt familiarity in her films that audiences relate to as she shows the exciting range of ways to travel. (Marinell Haegelin)