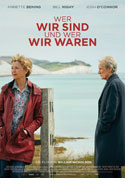 Wer wir sind und wer wir waren (Hope Gap)
U.K. 2019
Opening 29 Jul 2021
Directed by: William Nicholson
Writing credits: William Nicholson
Principal actors: Annette Bening, Bill Nighy, Josh O'Connor, Aiysha Hart, Ryan McKen
Hope Gap is a fitting title for the well-worn story of a couple breaking up after three decades of marriage. Grace (Annette Bening) is unaware that her husband Edward (Bill Nighy) is plotting to leave her for another woman. She needles him, cajoles him in a merciless manner trying to awaken him from his passive indifference. She only wants to get some reaction from him. Grace has obviously always been the driving force in their marriage. She's extroverted, intelligent, charming, and always has lines of poetry to quote for any occasion. Edward, a meek, ineffective man, is a teacher who drones on about Napoleon's retreat from Russia to his captive students. Yet his mind is elsewhere, he has fallen in love with the mother of one of his students, Angela (Sally Rogers). He plucks up all his courage and leaves their very comfortable home in picturesque Seaford where he and Grace had had a seemingly perfect life.
Grace flounders. She sees Edward as a mirage sitting at his familiar desk. She patiently sits on the stairs of their home waiting for his return. She buys a new puppy, calls him Edward, and commands him to "sit" and "stay". Months after Edward has left, she slyly slips into Edward and Angela's very modest home to confront Edward. Angela proves she now has filled the gap and has quite effectively taken over Grace's domineering role. She signals to Edward to be silent and recites proudly (as though well-rehearsed): "I think there used to be three unhappy people, and now there's just one."
And Grace is desperately unhappy.
But if truth be told there are two unhappy people. Jamie (Josh O'Connor), their beloved adult son, gets caught in the middle of the breakup. He has learned to hide his vulnerability beneath charming cheerfulness. The film flashes back as he recounts his happiest childhood memory when he would swing between his two parents walking the scenic route near Seaford to Hope Gap. He now has to buttress up his mother and listen to his guilt-ridden father trying to explain it all.
Cinematographer Anna Valdez-Hanks captures both the subtle hues of the English seaside and the artistry of every gesture, word, or silence of the characters. Hope Gap's cast is brilliant though some British critics thought Bening's English accent rather odd. William Nicholson inexplicably pretty much portrays the betrayed woman's perspective rather than the betrayer's. It's almost impossible to get past Edward's enigmatic hollowness to empathize with him. At times Nicholson alternated to the son Jamie's point of view, but never let the pain get too close to him. Maybe that was intentional. (Pat Frickey)


Second Opinion

Introducing the eponymous cove where his parents took him as a child, Jamie's (Josh O'Connor) astute observations resonate as the family's crisis unfolds. Whereas Grace (Annette Bening) is vivacious, loquacious, and forthright, Edward (Bill Nighy) is reflective, staid, and disengaged; the rift between them is painfully obvious within minutes. The prevailing uneasiness is palpable when grown-up Jamie, their only child, arrives on Saturday. Sunday morning Grace leaves for a while, which gives Edward the opportunity to designate Jamie his (reluctant) confidant, and accomplice. Upon her return, Edward's sudden mood shift is welcomed, but turns to stunned disbelief once Grace grasps Edward is entwined in a tawdry affair with Angela (Sally Rogers); Grace's reaction is pugnacious. During the subsequent tempestuous weeks, Jamie's allies Jess (Aiysha Hart) and Dev (Ryan McKen) listen and offer encouragement, as well as posing some tough questions. Although in the end, being Edward's go-between and Grace's buoy forces Jamie to find his own voice. The resulting articulation, unsurprisingly, expands several of the individual's involved horizons.
Observing theater veterans Bening and Nighy convey the profound minutiae of a 29-year marriage's entanglements disintegrate is awesome. Together with the convincing portrayal by O'Connor as their bemusedly floundering, angry son's response as his foundation unravels. Writer-director William Nicholson manifests a mature equilibrium in the (somewhat) biographical screenplay's humor, resentment and resolve, goodwill, and hope. Anna Valdez-Hanks's cinematography, Alex Heffes' music, and Pia Di Ciaula's editing magnify the film's diverse intertwining themes.
Hope Gap is tough, yet straightforward; most will relate to (one of) its points of view, e.g., Angela's shrewd comment near the end, "There were three unhappy people, and now (there is) only one." As she says this, carefully study each character's face – how people interpret that remark depends on her or his life experiences. (Marinell Haegelin)