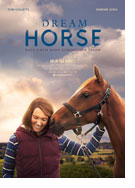 Opening 12 Aug 2021
Directed by: Euros Lyn
Writing credits: Neil McKay
Principal actors: Toni Collette, Owen Teale, Alan David, Lynda Baron, Damian Lewis
Based on a true story, Welsh director Euros Lyn's sure handedness, in tandem with Neil McKay's screenplay, give rise to audiences' cheers, tears, and nail-nibbling. The talented cast is brilliant, with beautiful horses for window dressing. Shot on location in South Wales (Blaenavon, and the local club in Rhymne) and Newbury Racecourse, Berkshire, England, Erik Wilson's cinematography is on track with Jamie Pearson's editing to reveal the ruggedly lush spirit inherent in Wales' citizens and countryside, counting big-time racecourses with their genteel stakes.
Toni Collette plays Jan Vokes, a barmaid desperate to break the tediousness in her and invalid husband Brian's (Owen Teale) lifestyle. Overhearing a local customer, taxman Howard Davies (Damian Lewis), talking about owning a racehorse inspires Jan. She cajoles Brian into accepting the idea of breeding, then racing, a thoroughbred; eventually Rewbell, a mischief-making mare and Bien Bien, a UK stallion, plus a breeder (Nicholas Farrell) is found. Only one problem: Jan has zero experience, albeit is willing to think outside the box. Jan persuades Howard to be the racing manager, Brian spruces up the shed on their allotment, and then Jan devises a plan to form a syndicate based on Howard's cost estimates. They need 30 people, and ultimately 23-community members sign up for mutual ownership. They weather a rough ride, some high jumps, cavorting and slumps, yet the ownership syndicate breeds camaraderie, and a darn good time to boot. The rest is history.
Adding to the film's authenticity is wonderful local talent, i.e., supporting actors: Karl Johnson as tipsy Kerby, Siân Phillips as feisty Maureen, Rhys and Gerald Horler as the Baldwin twins, Alan David as Bert, Aneirin Hughes as Ron, Rhys ap William as Kev, Darren Evans as Goose, Joanna Page as Angela Davies, Katherine Jenkins, et al. As well, only Welsh bands are featured on the soundtrack. Dream Horse's score is English composer Benjamin Woodgates' feature film debut, and is gaining recognition for its stylistic reach and attentiveness to picture.
And whatever you do, stay in your seats for the end credits. Otherwise, you will miss the finale of this spirited, refreshingly feel-good movie: actors and the real-life individuals they portrayed arm-in-arm for a rousing Welsh singalong. (Marinell Haegelin)