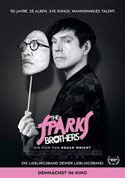 Opening 7 Oct 2021
Directed by: Edgar Wright
Writing credits:

You might be thinking, the Sparks brothers who? To coin director Edgar Wright, "How can one rock band be successful, underrated, hugely influential, and criminally overlooked all at the same time?" Wright's debut documentary is like climbing into a time machine: going right back to the family's California 1960s lifestyle via home movies, as Ron and Russell Mael add antidotes, e.g., Saturday matinees were a family mainstay, albeit they often arrived after the movie had started, therefore could only guess at the beginning—they speculate whether that influenced their peculiar thought process. They began recording in 1967, and in 1968, as Halfnelson, producer Todd Rundgren heard them: "Without Rundgren there'd be no Sparks." He produced their eponymous debut-album that was released in 1971 and sold badly; in 1972, Rundgren rechristened them Sparks, re-released that eponymous album, and they soared.
The brothers gained momentum after moving to England—"a big dream"—in 1973 and, with new manager John Hewlitt, released the 1974 breakthrough album, Kimono My House, and No. 2 hit single, "This Town Ain't Big Enough for Both of Us." Their band toured the USA in 1975, and albums included Indiscreet, with Tony Visconti producing. Returning Stateside in 1976, in 1977 the brothers teamed up with Italian electronic disco pioneer, Giorgio Moroder, who produced No. 1 in Heaven in 1979, followed by Terminal Jive in 1980. Ron and Russell also dipped into filmmaking and writing musicals. During the 1990s the rock band released their 16th album, Gratuitous Sax & Senseless Violins with its hit single, "When Do I Get to Sing 'My Way'" that was acclaimed and given No. 1 airplay in Germany, appeared in videos, released Plagiarism, recorded an action-film soundtrack, and, after the release of Balls in 2000, the band toured in Europe, Australia and Japan. Lil' Beethoven, 2002, is perhaps their third reincarnation and renewed interest in them; in 2015, Sparks and Franz Ferdinand formed FFS with an eponymous album, toured and were featured on a Beck album. In 2017, their Hippopotamus album, and tour, was great successes; in 2020, their album, A Steady Drip, Drip, Drip, had a delayed release because of COVID-19, yet again received critical acclaim. And, they worked on the musical film, Annette that debuted at the 2021 Cannes Film Festival, and Wright's documentary.
Wright's adroitly comprehensive, fun documentary undoubtedly will appeal to everyone. Very well constructed (Editor Paul Trewartha, Cinematographer Jake Polonsky, Art Direction Ves Philippi), it contains an extraordinary amount of impressive archival footage, accompanied by the brothers' witty commentary. They dared to be different, art always took precedence over money, and, "They like each other, they respect each other." No wonder they are often thought of as, "The best British group to come out of America." Come meet The Sparks Brothers! (Marinell Haegelin)