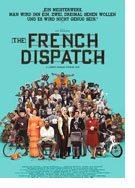 Opening 21 Oct 2021
Directed by: Wes Anderson
Writing credits: Wes Anderson, Jason Schwartzman, Roman Coppola, Hugo Guinness
Principal actors: Léa Seydoux, Timothée Chalamet, Christoph Waltz, Saoirse Ronan, Jeffrey Wright
Harkening to an almost obsolete occupation, director Wes Anderson begins the story, of all places, on the Great Plains of eastern Kansas. Then, while traveling in Europe the son of the editor of the Liberty, Kansas Evening Sun, young Arthur Howitzer, Jr. (Bill Murray) stumbles into (fictional) Ennui-sur-Blasé, France, across its weekly paper, and stays. As publisher/editor, Howitzer assimilates an unlikely, motley lot of journalistic geniuses, changes the paper's name to The French Dispatch (the Evening Sun's foreign bureau) and creates something worth fighting for. Thus, it was Arthur Junior that "[B]rought the world to Kansas."
In Brief: Of its many unusual reporters, it boasts the cycling reporter's (Owen Wilson) report, plus articles by the art correspondent (Tilda Swinton), American journalist (Frances McDormand) and food/social critic (Jeffrey Wright) that tickle readers' imaginations with stories of mad-cap individuals. Story #1 includes Benicio del Toro/artist with Léa Seydoux/muse, Adrien Brody/art dealer and business partners Henry Winkler and Bob Balaban, and naturally art collectors Lois Smith and Christoph Waltz. Story #2—a bit stodgy—cast of characters include Frances McDormand with revolutionaries Timothée Chalamet, Lyna Khoudri, Alex Lawther, and Cécile de France and Guillaume Gallienne, while Story #3's angle is food involving Mathieu Amalric/the police commissaire, plus Stephen Park, Edward Norton, Willem Dafoe, Saoirse Ronan and many more. Anjelica Huston's narration guides us through this filmatic edition, just as the cast enthusiastically embraces and embodies their characters.
In The French Dispatch's layered script, co-written with Jason Schwartzman and Roman Copola, Anderson's focus was two-fold: to do a collection of short stories, and "was to make a movie about The New Yorker" (magazine). In the 1920s, following the Great War and influenza pandemic, Americans were eager for fresh and different forms of literature/publications, art, and music. The magazine's co-founder, Herbert Ross, was part of the film's inspiration, as were some characters, and events (May 1968 student protests). Also inspirational were notable New Yorker journalists' articles, and legendary figures, e.g., Rosamond Beriner and John Russell, and James Thurber, S.N. Behrman, Brenden Gill, Luc Sante, et al.
Shot on location in Angoulême, France, "la ville de l'image" and the "capital of the comic strip," was key to the film: 900 townspeople were paid extras, 40% of its crew were based there, and local talent executed animated sequences (under Gwenn Germain.) Production values are sterling: Robert D. Yeoman, cinematography; Andrew Weisblum, editing; Alexandre Desplat, music; Rena DeAngelo, set decoration; Adam Stockhausen, production design, and Stéphane Cressend supervising art director.
Looking at Anderson's oeuvre, while The French Dispatch seems not to titillate or is as crisply dialogued, it is richly detailed, and Anderson distinctly and creatively plays around by mixing filmic mediums; perhaps his homage to the press is a metamorphosis. Clearly, this edition is well worth seeing, especially if you are an Anderson subscriber. (Marinell Haegelin)