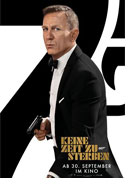 Keine Zeit zu sterben (No Time to Die)
U.K./U.S.A. 2021
Opening 30 Sep 2021
Directed by: Cary Joji Fukunaga
Writing credits: Neal Purvis, Robert Wade, Cary Joji Fukunaga, Phoebe Waller-Bridge, Robert Wade
Principal actors: Daniel Craig, Léa Seydoux, Rami Malek, Lashana Lynch, Ralph Fiennes
After a revealing sequence from Madeline Swann's (Léa Seyoux) childhood, Bond 25 proceeds from where "Spectre" left off, the honeymoon of the now retired James, Madeline, and his Aston Martin D85 driving to the most breathtakingly beautiful view. This time, a mountaintop town, Matera, in twilight, lit throughout by small fires, an ancient rite, allowing relief to its inhabitants, who periodically on a chosen night, burn their secrets (written on paper).
And secrets are many, a main theme throughout the film, involving among them an imprisoned old nemesis Blofeld (Christoph Waltz), a scientist under the powers of villain Lyutsifer Safin (Rami Malek), and even Bond's beloved Madeline.
Bond films are known for danger and adventure. This fifth and last starring Daniel Craig, kept me sitting on the edge of my seat the whole 2 hours and 43 minutes. The time flew faster than the D85. As each Bond film reflects its times, Craig is a vulnerable, thoughtful protagonist, and "No Time to Die" includes much more meat for its female actors. Keep an eye out for Paloma's (Ana de Armas) fun, modern take on a Bond girl, personally chosen for the role by Craig after working with her in "Knives Out".
The music is wonderful and not dominating, thanks to Hans Zimmer. During the closing credits, Louis Armstrong touchingly sings "We have All the Time in the World" (from the 1969 Bond 6, "On Her Majesty's Secret Service", also the romantic sentence which James promises to Madeline near the beginning of Bond 25) is a choice so impressive, almost outweighing the 18-year-old Billie Eilish singing the new Bond song. (Nancy Tilitz)