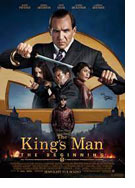 The King's Man: The Beginning (The King's Man)
U.K./U.S.A. 2021
Opening 6 Jan 2022
Directed by: Matthew Vaughn
Writing credits: Matthew Vaughn, Karl Gajdusek, Mark Millar, Dave Gibbons
Principal actors: Ralph Fiennes, Gemma Arterton, Rhys Ifans, Djimon Hounsou, Matthew Goode
Starting in South Africa, 1902, its heat drenched catalytic action introduces the main protagonist, Ralph Fiennes as Orlando, Duke of Oxford, and sets into play the prequel to what came before: Kingsman: The Secret Service (2014) and Kingsman: The Golden Circle (2017). All directed by Matthew Vaughn, the series is loosely based on the 2012 spy-comic series, Kingsman—initially The Secret Service—by Scottish writer Mark Millar and English comics artist Dave Gibbons.
Now twelve years later, arriving at their Estate Conrad's (Harris Dickinson) obviously frustrated at not being more involved in family affairs. Whereas the Duke, an avowed pacifist since that business in Africa, rather he be kept safe. Of his loyal staff, Shola (Djimon Hounsou) trains Conrad's mettle, while Polly's (Gemma Arterton) reasoning, on Conrad's behalf, initiates the Oxford men's trip to distinguished London tailors, Kingsman (in reality Huntsman at No. 11 Seville Row). Where they encounter Lord Herbert Kitchener (Charles Dance) with aide Morton (Matthew Goode); times are tense – Europe is awash in skirmishes, as tongues wag with war-talk. Then, the Archduke Franz Ferdinand and wife (Ron Cook, Barbara Drennan respectively) are assassinated. King George V (Tom Hollander, plus Nicholas II and Wilhelm II) sidetracks Orlando, angst-ridden that Rasputin (a dazzling Rhys Ifans), the Russian mystic-cum-advisor, influence over cousin Tsar Nicholas II (Hollander) might ignite a Great War; he needs the Duke's special help. Consequently, Orlando's 17-year-old son is introduced to the Club, i.e., a network of well-placed, incongruous international spies dedicated to stopping tyrants and abysmally villainous masterminds. Conrad, however, is keen for different sort of maneuvers. In parallel action, perched on a rugged, remote plateau a secret mysterious organization's head, an embittered Scottish patriot, turns his deviants loose, e.g., Mata Hari (Valerie Pachner), Gavrilo Princip (Joel Basman), Erik Jan Hanussen (Daniel Brühl), etc., to wreak havoc. If successful, there will be war, hence, England's demise.
The cast is great, and the key figures' chameleon-like performances are wonderful, as is the tongue-in-cheek comments laced into the dialogue (Matthew Vaughn and Karl Gajdusek screenplay). A standout sequence is the fight between Rasputin and the Oxfords and Shola —brilliantly coordinated choreography and music (Dominic Lewis and Matthew Margeson). Ben Davis' cinematography, and Jason Ballantine and Robert Hall's editing are spot-on.
There is a distinct feel to this film the Kingsman franchise is evolving: unlike the initial films waggish, non-historical contemporary spy agency approach, The King's Man makes a U-turn into a shadowy, historicized cloak-and-dagger world. Much of the comic series aspects have been replaced, albeit the concept of an "independent intelligence agency" remains, yet with wider reaching, open-ended features. This change could be a result of Netflix buying Millarworld, Millar's company, i.e., The Secret Service comic series, in 2017. Even so, The King's Man is entertaining adventurous comedic fun to simply enjoy. (Marinell Haegelin)