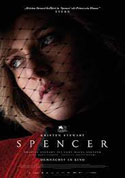 Opening 13 Jan 2022
Directed by: Pablo Larraín
Writing credits: Steven Knight
Principal actors: Kristen Stewart, Timothy Spall, Jack Nielen, Freddie Spry, Jack Farthing
"A fable from a true tragedy" reads the opening subtitle to Pablo Larrain's film Spencer, an imagining of Princess Diana's (Kristen Stewart) Christmas visit to the the Queen's Sandringham Estate in 1991, the final year of her doomed marriage to Prince Charles (Jack Farthing). Already living separately from her husband, who is in the middle of his affair with Camilla Parker Bowles, Diana must still keep up all public appearances and attend family events, where her every move is constantly scrutinized and the pressure to remain in a toxic marriage is becoming unbearable and pushing her to the breaking point.
From the moment she arrives at Sandringham, Diana is constantly surveilled by the head of staff Major Alistair Gregory (Timothy Spall), a military man who is tasked with making sure she stays in line. The more he struggles to control her, the more she rebels — and the more her mental health spirals. Told solely from Diana's increasingly manic point of view, writer Steven Knight puts the audience directly in the grip of an unreliable narrator, and what begins as historical fiction becomes more of a metaphor-laden psychological thriller.
"In this house there is no future. The past and the present are the same thing," she hauntingly says to her son, Prince Harry (Freddie Spry). Indeed, while at Sandringham, Diana becomes obsessed with the past. Finding a biography of Anne Boleyn, the beheaded second wife of Henry VIII (and actually a distant Spencer relative), in her room, Diana becomes convinced her ghost is trying to communicate a warning to her. She is also increasingly drawn to her old childhood home, now an abandoned estate that neighbors Sandringham.
Over the course of these three days, the audience has an up close and at times claustrophobic view of what it is like to be Diana during this trying and critical time in her life. Her bulimia problem is exacerbated by the increased stress, which begins the moment she sets foot in Sandringham. In keeping with historic royal protocol, Major Gregory insists Diana be weighed to ensure the required three pounds are gained over the holiday. It is a royal life of decadence and riches, but for Diana, it is a life encaged — one she's not sure is worth living.
Kristen Stewart's performance as Diana is truly mesmerizing and the success of this film largely rests on its shoulders. With every tortured shrug and shy side glance, she gives life to this fable. (Adelina Gonzales)