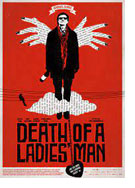 Opening 7 Apr 2022
Directed by: Matt Bissonnette
Writing credits: Matt Bissonnette, Bobby Theodore
Principal actors: Gabriel Byrne, Jessica Paré, Brian Gleeson, Antoine Olivier Pilon, Karelle Tremblay
From its screeching start to its bang-up ending, Canadian writer-director Matt Bissonnette assimilates tidbits of axioms, philosophical aphorisms, and clever dialogue the laudable cast scintillatingly delivers, though from differing perspectives. Bissonnette's confident storyline nimbly winds through and harmonizes with verses from the legendary Canadian singer-songwriter, author-poet and artist Leonard Cohen along with the Irish black humor and wit.
Gabriel Byrne plays Samuel O'Shea, a rascally purveyor of all life has to offer, while staying unhealthily inebriated much of the time. "Guess what kid, today's your lucky day." And with that, Byrne/O'Shea lurches into the first of three parts, whereby the ladies' man propensity for his gusto lifestyle leads him along in a haze. Except now, with divorce from Linda (Carolina Bartczak) in the works, hallucinations have joined the party. At son Layton's (Antoine Olivier Pilon) hockey match, Samuel is dumbstruck hearing Cohen's "Like a Bird on a Wire" intoned instead of the national anthem. Then there's the tiger-headed waitress where he and daughter Josée (Karelle Tremblay) lunch, plus Thanksgiving with ex-wife Geneviève (Suzanne Clément) and Jonathan (Tyrone Benskin) when he escapes the noisy dinner table conversation to have a quiet chat with Ben (Brian Gleeson), his (deceased) dad, in the kitchen. The doctor's (Pascale Bussières) sobering tumor-sized diagnose convinces Samuel a sabbatical is in order. Nostalgia sends him home to Ireland to write his book, but it is meeting Charlotte (Jessica Paré) that allows him to imagine a future. Should fate so allow before the song ends.
Keeping his Dublin accent soft, Gabriel Byrne's striking performance carries the film, and commands attentive observation in order to sort Samuel's hallucinations from reality. The strong supporting cast adds credibility to the story, particularly the homespun Gleeson and Paré's vampishness. Editor Matt Lyon tidily structures Jonathon Cliff's impressive location (Quebec and Ontario, Canada; Connemara, Ireland) cinematography into three distinct segments accompanied by Irish composer Stephen Rennicks' film score.
The absurdity of worrying about death, i.e., the inevitable, is beautifully illustrated in Bissonnette's idiosyncratic Death of a Ladies' Man. Besides, it reminds us that nothing in life is ever too late. (Marinell Haegelin)