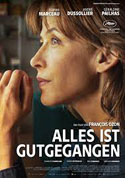 Alles ist gut gegangen (Everything Went Fine, Tout s'est bien passé)
France/Belgium 2021
Opening 14 Apr 2022
Directed by: François Ozon
Writing credits: Emmanuèle Bernheim, François Ozon, Philippe Piazzo
Principal actors: Sophie Marceau, André Dussollier, Géraldine Pailhas, Charlotte Rampling, Eric Caravaca
François Ozon's 20th movie was nominated at last year's Cannes Film Festival. The true, very touching and highly emotional story is based on the prize-winning book Tout s'est bien passé by the late Emmanuèle Bernheim (1955-2017). André (André Dussollier), mid-eighties, a well-off retired businessman and avid art collector, suffers a stroke, which leaves him partly paralyzed. He and his wife Claire (Charlotte Rampling) are living separate lives, so it is his daughter Emmanuèle (Sophie Marceau), a writer, who is called to his hospital bed. His second daughter, Pascale (Géraldine Pailhas), has always been somewhat jealous of her sister being her father's favourite, although in flashbacks we see that André has treated Emmanuèle very badly, so much so that as a child she almost wished him dead. André, although charming, is a cynic. His entire life, André had behaved selfishly, doing whatever he felt like doing, like carrying on a homosexual affair, and living life to the fullest without giving any thought to his family. Now, in hospital, he realizes that there is no chance of him recovering, and he is torn between anger and self-pity. He wants to end his life, but cannot do it on his own, so he asks Emmanuèle to help him. Emmanuèle is shocked but knows that eventually she will have to do as her father says, like she has done her entire life. The sisters meet with a woman (Hanny Schygulla) from an association in Switzerland that assists suicides.
The film title anticipates the ending of the movie, but until then we are met with a lot of obstacles, even involving police intervention, which are in part funny, witty, melodramatic, and full of humanity and emotion. The entire cast's acting is superb, and everybody who has ageing parents will think about the ethical dilemma of assisted suicide for a long time after the movie has ended. (Ulrike Lemke)


Second Opinion

The prolific French writer-director François Ozon's provocative oeuvre embraces tough topics with honesty and truthfulness: Grâce à Dieu (By the Grace of God, 2019), about sexual abuse by Catholic clergy, Frantz (2017) about lies, guilt and victimhood on national and personal levels, and 8 Women (2002), an exaggerated, musical-whodunit stereotyping women with a skilled all-star female cast. In Alles ist Gutgegangen, based on Emmanuèle Bernheim's autobiographical eponymous novel (Tout s'est bien passé), the filmmaker takes a straightforward approach to neutralizing the squeamishness surrounding euthanasia.
One September 15, the robust, assertive André Bernheim (André Dussollier) wakes broken and scared in a hospital with daughters Emmanuèle (Sophie Marceau) and Pascale (Géraldine Pailhas) hovering over him. He demands to know what happened, and is furious to learn he had a stroke. André wants older daughter Emmanuèle to fix it so that he can end his life. This should be simple, non? Emmanuèle, a thriving, successful writer, and Pascale, a mother and musician, are close and share responsibility for their parents; they grapple with the appalling request, although knowing whose decision it will be. Their aging, ailing mother (Charlotte Rampling) visits Andre; the notary/lawyer (François Perache) begins tackling the couple's legalities; André refuses to see Gérard (Grégory Gadebois). For a respite, Emmanuèle visits an editor/friend (Denise Chalem). Months pass. In December, she meets La dame Suisse (a wonderfully empathetic Hanna Schygulla) and learns details regarding the venture. André delays, but on April 2 attends his grandson's (Quentin Redt-Zimmer) concert; nevertheless, he insists on continuing with the enterprise.
Rather than going for histrionics, François Ozon's interest was in how the family—a complicated ménage for sure—deal with the patriarch's death wish. Sophie Marceau and André Dussollier's illustrative, nuanced performances say more than words ever could and spellbindingly, admirably so. The veteran cast even manages to add touches of irony and amusement, e.g., when Éric Caravaca/Emmanuèle's husband and Dussollier/André use the elevator. Alles ist Gutgegangen is a hopeful film—think about how nice it would be to be able to say goodbye to a loved one. It is also a tribute to families, those one inherits, and those we choose. (Marinell Haegelin)