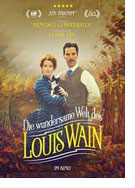 Die Wundersame Welt des Louis Wain (The Electrical Life of Louis Wain)
U.K. 2021
Opening 21 Apr 2022
Directed by: Will Sharpe
Writing credits: Simon Stephenson, Will Sharpe
Principal actors: Benedict Cumberbatch, Claire Foy, Andrea Riseborough, Toby Jones, Sharon Rooney
The English director Will Sharpe's seeming affinity with eccentric artists (Flowers, 2016) keenly flavors The Electrical Life of Louis Wain (co-written with Simon Stephenson) about the artist whose idiosyncratic cat illustrations put pusses on the pedestal of popularity with Victorian society; kitty-cats dressed as themselves, posing and displaying personalities – a precursor to feline memes current ubiquitousness. As Olivia Colman's calm and composed voice guides us, the colorful, quirky film begins in 1881 when the artist, the oldest and male sibling, is thrust into heading the chaotic household. A most unusual household of five sisters and a distracted mother (Phoebe Nicholls), Louis works illustrating for The Illustrated London News for editor Sir William Ingram (Toby Jones' performance is shrewd yet thoughtful).
Benedict Cumberbatch's compassionate, nuanced performance as Louis Wain is "the cat's meow." His portrayal of Louis' distracted courtesies and bumbling demeanor, naïveté, tenaciousness while delicately teetering on delusion's precipice. So much so—the teetering—that when the new governess arrives her presence adds balance to Louis' life. Claire Foy as Emily Richardson conveys the steady kindness yet strong, unflustered fiber necessary for dealing well with life's foibles and follies. (Dixie Chassay's casting is spot-on.) Subsequently Louis switches to full-time illustration work.
Then oldest sister Caroline (Andrea Riseborough) proclaims the pair's behavior at the theater scandalous, an infraction against the family, i.e., the prudish era's stiff societal rules; they marry in 1884. And thrive under Emily's tranquil nature, encouragement of and participation in Louis' fanciful electric creativity. They adopt Peter, Louis' first model, and in 1886 his anthropomorphizing begins in earnest. Until tragedy unanchored Louis; he grapples with his sanity, and mounting family pressures. This time a fellow traveler (Adeel Akhtar as Dan Rider) from the past saves Louis.
Erik Wilson's cinematography heightens colors and textures with shifting auras and camera angles to compliment onscreen deeds that Suzie Davies' detailed production design mirrors, and Selina Macarthur thoughtfully edits. Arthur Sharpe's music is nostalgically nuanced. The Electrical Life of Louis Wain revitalizes the unequivocally remarkable, prolific artist whose individualism and curiosity paid little heed to others' expectations. It pokes at Wain's fascination with cats, electricity, and electrical currents pushing back/forward in the universe, his dexterous two-handed drawing ability, successes, and honors as his persona fills the screen. (Marinell Haegelin)