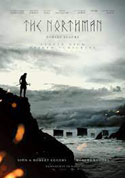 Opening 21 Apr 2022
Directed by: Robert Eggers
Writing credits: Sjón , Robert Eggers
Principal actors: Alexander Skarsgård, Nicole Kidman, Claes Bang, Ethan Hawke, Anya Taylor-Joy
The Northman is a tale of revenge, a Viking saga set in the 10th century, filled with brutality and mythical mayhem. As a boy, Prince Amleth (Alexander Skarsgård) witnesses his father's murder at the hands of his uncle Fjolnir (Claes Bang), who then absconds with Amleth's mother, Queen Gudrun (Nicole Kidman), leaving the young prince for dead. But Amleth lives and devotes the next decade of his life to becoming a fearless warrior, a muscled, enormous killing machine — a literal berserker, who vows to avenge his father's death and rescue his mother. When the chance comes to seek his revenge, Amleth takes it, and with the help of a beautiful and seductive woman Olga (Anya Taylor-Joy), he begins a bloody campaign to right the wrong he witnessed as a boy.
Director Robert Eggers has created a movie that is a mesmerizing mixture of historical Norse mythology, supernatural visions, pagan rituals, poetry and cutthroat cunning. This is not a movie for the faint of heart: I almost left the theater at one point because the violence on screen was so graphic and unsettling that I didn't think I could bear it any longer. What kept me riveted in my seat was the intoxicating power of this movie's very clear narrative vision; it's unlike any movie I've seen before and has a specific visual language that is as compelling as the violence is repellent. There are witches and seers and drug-induced visions, as well as sacrificial rituals, long ship journeys across oceans and devastatingly bleak landscapes. Much of this movie feels grounded in well-researched history and ancient myths, and just as much feels like an exaggerated fever dream. All together it's a rich and shocking movie that will not be easily forgotten. (Diana Schnelle)


Second Opinion

North Atlantic – AD 895: "Hear me… Hear me, hear me Odin…" So begins director Robert Eggers's astonishing epic film he co-wrote with the Icelander Sjón, honed from an Old Norse Germanic mythology legend that inspired the great bard himself, i.e., Shakespeare's Prince Hamlet. Viking King Aurvandill (Ethan Hawke), returning after a season of pillaging and plundering, greets Queen Gudrún (Nicole Kidman) but bear-hugs young Prince Amleth (Oscar Novak), their son. Following a rite of passage session with Heimir the Fool (Willem Dafoe), the Prince and King are ambushed and after prophesying, "the kingdom will never be yours" the King dies. The Prince, barely escaping, is determined to exact retribution from his uncle Fjölnir (Claes Bang).
The Land of Rus: Amleth (Alexander Skarsgård), a fearsome adult, fights fearlessly as part of a Bear-Seekers war party. In the aftermath, a prophetess Seeress (Björk), a seed and an oath set a new course for Amleth. Stowing away on a slave boat, a Spell Speaker warns Amleth, "Show the Shepherd you're a sheep."
Iceland: Plodding to their destination, Amleth admits fate guided his course to Olga (Anya Taylor-Joy) of the Birch Forest who is indeed a sorceress. He is given work worthy of an ox, and Olga is kept for the laundry, and fun. Ever watchful, Amleth misses nothing: Fjölnir with his mother and their son, and the pompous, dangerous Thorir (Gustav Lindh), Fjölnir's firstborn. He quickly realizes "It's a nightmare," then has an encounter with a He-Witch (Ingvar Eggert Sigurðsson) and, henceforward destiny controls his life. But can he conquer his fate?
Epical in proportions and true to Egger's auteurism (The Witch, 2015, The Lighthouse, 2019), the film's atmospherically meticulousness permeates throughout: its Arctic rawness and coarse, brutal primitiveness, its scale, its cast. The cast is astounding, with standout performances from Skarsgård and Kidman. To recreate the 10th century, Eggers consulted with Viking historians and archeologists; the pre-production work was massive. When they were shutdown from COVID-19, the waiting sets were repaired/aged, and with its huge cast and many locations, much of the film required storyboarding for exactness. Eggers collaborated closely with his team: cinematographer Jarin Blaschke's tonal choices, film grading, camera placement, and low-light scenes—quite impressive, emphasis is naturalness. Production designer Craig Lathrop and costume designer Linda Muir color-matched the Viking period; Louise Ford fastidiously edited, and Robin Carolan and Sebastian Gainsborough's impressive, attention-grabbing music resonates with sounds only antique instruments can make.
This avenge-saga immerses audiences in medieval mires of raging lusts, unsparing actions, pagan rites, and fascinating liaisons. In the end, Amleth must decide "between kindness for your kin, and hatred for your enemies." The Northman's odyssey is one worth traveling. (Marinell Haegelin)