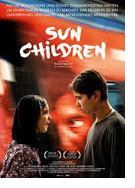 Sun Children (Khorshid)
Iran 2020
Opening 5 May 2022
Directed by: Majid Majidi
Writing credits: Alireza Abedizadeh, Nima Javidi, Majid Majidi
Principal actors: Ali Nassirian, Javad Ezati, Tannaz Tabatabaei, Roohollah Zamani, Shamila Shirzad
Interrupted while working as their client waits, the gang's most expedient action is to leave. Fast. Ali (Rouhollah Zamani), Abolfazl (Abolfazl Shirzad), Reza (Mani Ghafouri), and Mamad (Mahdi Mousavi) also work part-time at a tire shop, so the side-business supplements their earnings that go to their families. The four are thick as thieves. The old scoundrel Hashem (Ali Nasirian) knows Ali is the wiliest, so assigns him to find an underground treasure, albeit with a catch. He, they must go to the Sun School; free to Tehran's street-urchins with an enrollment of 280 youngsters, the school is the sole access to the treasure. The first challenge is to enroll; when the vice-principal (Javad Ezzati) notices how desperately they want to enroll, he overrides his hardheaded principal's (Ali Ghabeshi) negative decision. Ali's attitude is pugnacious, yet the 12-year-old unhesitatingly rushes to his friends' aid, and that includes Abolfazl's sister (Shamila Shirzad). Since Ali's mother (Tannaz Tabatabaei) is hospitalized, the gang is all he had until, surprisingly, the school. Thus begins the game of going to classes, dodging teachers to dig, and joining in just enough to not stand out. But sometimes, without trying, people do attract attention only to discover the biggest treasure is closer than suspected.
Iranian writer-director Majid Majidi's Children of Heaven (Bacheha-Ye aseman), 1997, received the first Iranian film nomination by the Academy Awards; The Color of Paradise (Rang-e khoda), 1999, was included in Time Magazine's 2000 list of the ten best films; Rain (Baran), 2001, was Iran's submission for the 2001 Oscars® as was Sun Children in 2021. He unwaveringly supports under-privileged people by drawing attention to their plight through beautifully filmed, remarkable and heart-rending stories reminiscent of Charles Dickens, England's great author and social commentator / critic. Co-written with Nima Javidi, the subtleties brilliantly illustrate the plight of poverty, particularly by contrasting the adults to children navigating the path to adulthood.
Exploited and abused adolescents' struggles and the odds against them is embodied in the four protagonists; absent father's bad traits are emulated in their actions, just as at school they behave differently – they can be kids. Majidi cleverly juxtaposes a professional soccer scout's goal vs. donating money to the school; also, the vice-principal's and bureaucrat's poles apart mindsets. The scene of the teachers and students at the locked school gate is unforgettable.
The award-winning Sun Children's cast are naturally genuine: Zamani (awarded the Marcello Mastroianni Award for Best Young Actor by Venice Film Festival) and real-life sister and brother Shamila and Abolfazl Shirzad worked as street peddlers and child laborers in Tehran before being cast in the film. Houman Behmanesh's cinematography is brilliant, Hassan Hassandoust's editing tight, Mohammad Reza Delpak's sound mix/design resonates, and Ramin Kousha's score is melodious. The bright energetic beginning develops into the turbulent, gutsy, and absorbingly gut-wrenching central part that is then offset with a poignant ending for all of what was, and is not. (Marinell Haegelin)