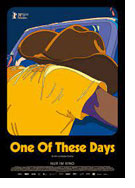 Opening 19 May 2022
Directed by: Bastian Günther
Writing credits: Bastian Günther
Principal actors: Callie Hernandez, Joe Cole, Carrie Preston, Devyn A. Tyler, Cullen Moss
A car dealership holds a yearly competition called "Hands on a Hardbody". The twenty or so competitors are expected to keep one hand on the prize for as long as it takes to be the last hand on the prize, a new pickup truck. In this small Texas town, this bizarre competition is big news with much fanfare, local TV promotions, and daily events to ensure the whole town can watch the contestants. While the audience parties, eats, and drinks around the truck the competitors must endure standing in constant heat, stressed both mentally and physically, as well as being bullied and belittled by other contestants. As the competition plays out hope moves to despair and eventual tragedy. Leaving you to wonder what you might do, in a desperate attempt to 'win' a prize. Is it worth it?
This dramatic depiction of true events provides a view into the lives of a small town that is enduring the hardships that befall many small communities in the US Bible Belt. The palpable desire for redemption and last chances run throughout this slow-paced, dark, gritty drama.
Peaky Blinders fans will not be disappointed with Joe Cole's (Kyle) depiction of a young man who is desperate to succeed, failure is not an option. You will also recognize Carrie Preston (Joan) from True Blood, her portrayal of the competition host, local TV presenter and another searching town soul is compelling.
Throughout you will find stories that could form further comments on the American way of life and what we all might do in order to be the last person standing. (Christine Riney)


Second Opinion

Since 1992, Bubba Boudreaux's (Douglas M. Griffin) yearly "Hands on a Hard Body" event at his Nissan car and truck dealership nearly runs itself. Bubba's bubbly public relations gal Joan (Carrie Preston) gets good publicity going that generates patronage, awareness, and she runs a tight show with help from the staff, markedly Chris (Cullen Moss). Raffles are held during the lead-up period when twenty names are selected. On the day, all the contenders get matching T-shirts and then stand with their hands on the "body." Day and night, with breaks and without sitting, collapsing, fainting, or whatever, whoever keeps one hand on the brand-spanking-new pickup truck the longest wins it. Joan confides to Chris she is rooting for poor young Kyle (Joe Cole) grinding along with a broken-down car with a wife (Callie Hernandez) and baby at home. In the rural East Texas (Longview) community, many scrape by working long hours in low-paying jobs pressured by hot, humid summers and the lack of opportunities. All the same, the 2005 event alters the town's status from home of a badass contest to one that lives on in infamy.
Lots changed since Bubba's first Hands On; it gained international attention from S.R. Bindler's 1997 documentary, Hands on a Hard Body filmed at the 1995 competition that lasted seventy-seven continuous hours. La Jolla Playhouse, California, adapted it into an eponymous musical premiering in 2012. German-born Bastian Günther does not shy away from the 2005 event; Günther's wife, a Longview native, told him the tale. The writer-director's screenplay focuses on the twenty people's disparate characteristics from fools to bullies to a Bible thumper to music fans. Early on, personalities emerge and although some talk about aspirations and dreams, as the hours tick by the one's true mettle shows, grinds, or clashes.
Preston and Cole project the essential tonality of the populace; the good cast includes Jesse C. Boyd, Lynne Ashe, Evan Henderson, Clyde Risley Jones, Lucy Faust, Chris Gann, Alexander Biglane, et al. Anne Fabini's mood-setting editing is tight, sultry, laconic; Michael Kotschi's cinematography is inclusive, and Angela Gail Schroeder's production design and Joseph Cassady Harris' set decoration spot-on. How the participants around the truck change absorbs and commands attention. What compels them do this? After the event's unexpected, out-of-character tragedy, Günther detours back to the beginning to fill in blanks that defies and defines the film. One of these days, people may even understand the nemeses within, and without. (Marinell Haegelin)