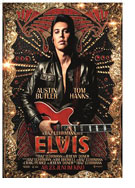 Opening 23 Jun 2022
Directed by: Baz Luhrmann
Writing credits: Baz Luhrmann, Sam Bromell, Craig Pearce, Jeremy Doner
Principal actors: Tom Hanks, Austin Butler, Olivia DeJonge, Dacre Montgomery, Luke Bracey
Director Baz Luhrmann, of Moulin Rouge (2001) and Romeo + Juliet (1996) fame, has turned his attention to none other than the King of Rock and Roll for his latest and highly anticipated film. Elvis is an ambitious and high-energy biopic that retells the star's life story through the oddly-accented narrative of his oppressive and controlling shyster of a manager, Colonel Tom Parker, quirkily played by a creepy looking Tom Hanks wearing a prosthetic nose and a fat suit.
The film chronicles Elvis' (Austin Butler) meteoric rise to stardom from his childhood in Mississippi and Memphis, where he was drawn to the gospel and rhythm and blues music of the working class black neighborhoods, to his peak as a radio and film chart topper adored by fans around the world and then his subsequent downfall phoning in his Christmas specials and languishing in a Las Vegas concert residency before his death. With Luhrmann directing, this has the frenetic pace of a dizzying carnival ride that is often a wildly entertaining and exhilarating experience, but ultimately leaves the audience feeling like important chunks of the timeline have gone missing. One moment, a young Priscilla (Olivia DeJonge) is flirting with Elvis in an army uniform, and in the next, she's Mrs. Presley with a baby.
As expected though, Luhrmann does set these whirlwind scenes to a solid soundtrack. Many of Elvis' hits have of course been included, with some big names providing updated covers. The first released song from the soundtrack, Doja Cat's Vegas, includes a sample of Big Mama Thornton's Hound Dog and is sure to be a summer chart topper.
Also of considerable note is Butler's performance. He masterfully captures Elvis' moves (lots of screen time given to those gyrating hips) and soulful, swoon-worthy gazes, but also manages to give him a real sense of character during the brief moments the film's pace allows for lengthier dialogue. Unfortunately, the title role really seemed to take a backseat under the Colonel's narration. Under this structure, more time was given to moments involving their relationship; the rise and fall of Elvis' long career, his untimely death, and the role the Colonel may have played in it.
It really is a shame that a movie about one of the greatest rock and roll icons of all time, directed by a man with a gift for extravagantly marrying music and cinema, ended up feeling one-dimensional and unbalanced. Elvis, and even the villainous traitor Colonel Tom Parker, deserved better. (Adelina Gonzales)