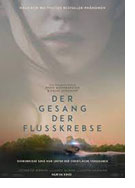 Der Gesang der Flusskrebse (Where the Crawdads Sing)
U.S.A. 2022
Opening 18 Aug 2022
Directed by: Olivia Newman
Writing credits: Delia Owens, Lucy Alibar
Principal actors: Daisy Edgar-Jones, Taylor John Smith, Harris Dickinson, David Strathairn, Michael Hyatt
The American South in books and films has always had an unhurried rhythm, an irresistible charm, and quite often, clandestine secrets. Where the Crawdads Sing was spawned in this tradition as a bestselling book published by Delia Owens in 2018. In the film you are immediately lured by cinematographer Polly Morgan to step into the innate beauty of North Carolina's marshlands adorned with trees dripping with Spanish moss, inhabited by indigenous wetland flora and fauna, and crisscrossed by innumerable rivers along with an occasional lurking alligator. It's a mystical, silent world awash with a subdued pastel palette, the perfect place for a murder. Taylor Swift's haunting ballad "Carolina" hints at this.
In the opening scene set in 1969 two young boys riding their bikes in the marsh, discover a corpse which the sheriff and deputy of small-town Barkley Cove quickly identify as that of a local former football hero, Chase Andrews (Harris Dickinson). Suspicions fall immediately on Kya Clark (masterfully played by Daisy Edgar-Jones). "Marsh Girl", as she is branded by those in the town, believe that Chase has had an illicit thing going on with her. After a harrowing and brutal chase, the lawmen grab Kya up from the river during a failed underwater escape. Kya sits solemnly in the local jail cell awaiting her trial.
Then the flashbacks begin. Two decades earlier Kya (Jojo Regina, a delightful 11-year-old) lived in a shack in the marsh with her parents and four brothers and sisters. She is the youngest child and adored by all. But one by one, starting with her mother, they leave home to evade the wrath of her violent alcoholic father. Kya stays on leading a lonely life, getting laughed out of school the one day she attends, her real education instead seeps in from her exploration of the natural marshlands around her. Not needing "book learning" she expertly begins to paint shells, feathers, plants, and marsh creatures with the watercolors her beloved mother didn't have time to pack.
When her father leaves, a benevolent Black shopkeeper Jumpin' (Sterling Macer Jr.) and his wife Mabel (Michael Hyatt) are the only ones in town who seem to notice. They buy the fresh mussels she collects in the marsh so she can afford the bare essentials she needs to survive in the wilderness.
Kyra grows up to be a striking, talented, independent, yet isolated young woman. Two local men fall madly in love with her; both are very easy on the eyes. One, Tate Walker (Taylor John Smith) teaches her to read before he abandons her to go off to college. The other, Chase Andrews (Harris Dickinson) teaches her she is right to distrust people. He is a lot like her father: "these men had to have the last punch."
Sitting in the jail cell Kya is approached by a kindly local retired lawyer, Tom Milton (David Strathairn). He offers to defend her in court, and defend her he does. But it's the last courtroom scene, the closing argument scene that jarringly evokes Atticus Finch, the principled Southern lawyer from To Kill a Mockingbird (1962) defending the underdog. Tom, like Atticus, is wearing an identical white suit, signaling he's the good guy; he is gently educating the narrow-minded town folk about compassion and injustice.
Not so obvious is the film's subtle resemblance to another Southern classic, Fried Green Tomatoes (1991). Its moral: You don't necessarily need the law and a courtroom; there is more than one way to mete out justice. (Pat Frickey)


Second Opinion

Out yonder where the crawdads sing is where you'll always find Kya. She's the "Marsh Girl," you know, and this here film is about North Carolina's marshes and swamps, Barkley Cove and Kya over, give or take, 25 years. It encompasses the mysteries and meanness of humankind, and the magic and wonder of nature – its healing qualities and the soothing-salve of friendship. Director Olivia Newman, working from Lucy Alibar's screenplay, breathes life, vibrancy, and poignancy into Delia Owens' 2018 eponymous bestselling American novel.
In 1969, Catherine Danielle "Kya" Clark (Daisy Edgar-Jones) is sitting in jail when Tom Milton (David Strathairn) arrives; a consideration overrides Kya's reticence. The retired lawyer steps up and speaks out in her defense: the six-year-old girl (amazing performance by Jojo Regina) who in 1952 still had a family; the kindhearted store owners (Michael Hyatt, Sterling Macer, Jr.) ever on guard, and townspeople that kept watch like hawks. Growing into self- reliance Kya, smart as a whip, ain't schooled and continually dodges social services. Capitalizing on Mama's left-behind watercolors, Kya's companions take form at her hand: shells, feathers, marshland creatures and shoreline vegetation. In 1965, she serendipitously encounters her brother's all grown-up friend Tate Walker (Taylor John Smith), and their mutual love of the natural world forms a bond between them. Then Tate leaves for college. Alone again, when the dashing Chase Andrews (Harris Dickinson) catches eye of her, life as she has always known it is no more.
The strong cast excel, particularly the contrasts/tensions among Edgar-Jones, Smith and Dickinson's characters that Strathairn's southernly lawyer wisdom offsets. The power of prejudice, the cruelty of control, the brutality of bullying loses momentum in Der Gesang der Flusskrebse when embraced by compassion and kindness. Polly Morgan's cinematography captures tactile textures and perceivable distinctions that separate/join the coastline's indigenous critters. Alan Edward Bell's editing nimbly switches from the present to key time periods in Kya's development, the sound design is awe-inspiring and Mychael Danna's music evokes, swells yet never grandstands. As the gifted naturalist summarizes, "Every creature does what it must to live." Where The Crawdads Sing is as beguiling as the novel and well-worth experiencing. Do crawdads sing? Perhaps, to those attuned to hearing them. (Marinell Haegelin)