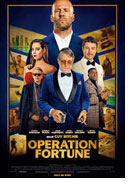 Operation Fortune (Operation Fortune: Ruse de guerre)
U.S.A. 2023
Opening 5 Jan 2023
Directed by: Guy Ritchie
Writing credits: Ivan Atkinson, Marn Davies, Guy Ritchie
Principal actors: Aubrey Plaza, Hugh Grant, Jason Statham, Eugenia Kuzmina, Cary Elwes
With stakes so high, anything goes. In London, competition within his majesty's government's many teams is rampant, particularly when wanting to impress the higher-ups whose infighting feeds their ambitious natures. Nathan's (Cary Elwes) summon, from the one (Eddie Marsan) closest to the Prime Minister, sets the operation in motion. Can anyone stop the recently developed deadly weapons technology sale? Nathan specifies special agent Orson Fortune (Jason Statham's fifth collaboration with Ritchie); the crème de la crème of spies, his techniques are as unorthodox as his shatteringly high expenses. Equally unconventional is his team's, JJ (Bugzy Malone) and Sarah (Aubrey Plaza), unique talents. After working out that shady, stinking rich Greg Simmonds (Hugh Grant) is the grandmaster, they work undercover using none other than megamovie star Danny Francesco (Josh Hartnett) as bait, who agrees to lending a hand since his are, figuratively, tied behind his back.
Profiteers are popping up everywhere to gain the billions in unearned profits. With his great appetite, shrewdness, and strong sense of self-preservation Greg's sharp-eyed No. 2 (Lourdes Faberes) also misses nothing. Neither do other badass characters: a techy whiz-combo who use war orphans' relief as a ruse, and Ukrainian baddies. "Wait, there's more." Fortune's operation keep tripping over their competitor Mike's (Peter Ferdinando) bunch and Greg's guy Ben (Max Beesley). Consequently, their best laid plans go astray and the one that notices it is the one least expected to.
The perspicacious director, co-writer, and producer Guy Ritchie's stamp is all over Operation Fortune: Ruse de Guerre: cheeky, fast action, and dialogue shot through with whip-smart ambiguities. The cast is brilliant with many (Grant, Marsan, Hartnett, Lyne Renée) Ritchie repeat actors. Its choreographic confrontation scenes and composed fight scenes shoot past thanks to James Herbert's lively yet pragmatically adjoining editing. Alan Stewart's cinematography catches the implicit challenges in the fast-lane action in London, Morocco, and Cannes—actually, across Turkey and England, and Qatar. And when, then Christopher Benstead's music is neck and neck with said exploits.
Modern girls, a Trojan Horse, boasting braggarts, fishy smells and the art of one-upmanship vie to outdo the other in this hi-octane intelligently constructed comedy-cum-spy caper. Take Ritchie's advice and look up the meaning of ruse de guerre – "…a term, 'the accepted unorthodox approach to war' which is really what our film is about." Operation Fortune guarantees an entertainingly kick-ass romp of a ride. (Marinell Haegelin)