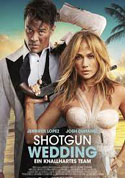 Opening 19 Jan 2023
Directed by: Jason Moore
Writing credits: Mark Hammer
Principal actors: Jennifer Lopez, Josh Duhamel, Lenny Kravitz, Jennifer Coolidge, Sonia Braga
Assault Rifle Wedding would have been a better title for this film. The antiquated concept of a shotgun wedding, in which a reluctant groom is being forced to marry his pregnant girlfriend by the bride's father, is an innocent and refreshing concept from another time.
First of all, the prospective couple are not a young, naïve blushing bride and hesitant bridegroom. They are both sophisticated, wealthy fifty-year-old Gen Xers, extremely attractive Gen Xers at that. Glamorous Darcy (Jennifer Lopez) has agreed to a destination wedding on a Philippine island resort to please her handsome groom Tom (Josh Duhamel). She just wanted a simple, intimate wedding, but Tom has planned in exact detail an extravagant event albeit on a shoestring (that's relative) budget. He especially wants to impress Darcy's millionaire dad Robert (Cheech Marin) along with their family and friends. As they say, families are complicated. Darcy's father appears with his youthful girlfriend Harriet (D'Arcy Carden) much to the chagrin of her mother. Tom's mother Carol (Jennifer Coolidge, stellar in the series White Lotus) provides all the comic mother-in-law relief we expect in a wedding movie. Darcy's ex Sean (a cool Lenny Kravitz) descends dramatically in a helicopter, seeming to crash the wedding, but not really. He had received an invitation, and heaven forbid, didn't RSVP.
Up to now it's the typical romantic wedding comedy audiences have come to expect. But there is a twist. Little known to the bride or guests this island has been the target of Balinese pirates in the past. With a tip off they invade the resort and take everyone hostage hoping to extort millions of dollars from Robert. With their assault weapons blazing they force everyone into the pool, but where are the bride and groom? Seems like they are having a lovers' quarrel, a little tiff, in another part of the resort. The pirates' plan is thwarted till they find them, or Robert won't pay the ransom.
Con: Violence dominates this romantic comedy. Are mowing down people with automatic rifle fire, blowing them up with grenades, chopping heads off with the wedding cake knife really that humorous…or romantic?
Pro: Jennifer Lopez looks HOT. Maybe her fans will just sit back, forget the plot, and relish watching her in her shredded wedding gown toting an assault rifle, her hair flowing, and running down the beach.
Lingering Questions: How did the groom's self-inflected wound, that had gushed pools of blood in the kitchen, heal so quickly? Why couldn't the charming exuberance of the cast party performing "Walk Like an Egyptian", shown as the credits were rolling, spill over into the film itself? And then there's the elephant in the room question: when will Hollywood stop glorifying carnage and assault weapons in a nation where gun violence stalks its citizens? (Pat Frickey)


Second Opinion

Tom (Josh Duhamel) and Darcy (Jennifer Lopez) are old enough to know what kind of a wedding they want. Or are they? With only their nearest and dearest at the destination—Marshal Island Resort in the Philippines—a wedding where everyone can relax and enjoy themselves. Except that the whole endeavor is a three-ring circus from the get-go, which pretty much describes the film. Darcy's dad (Cheech Marin) brings the girlfriend (D'Arcy Carden) to her mom's (Sonia Braga) acute annoyance that her sister (Callie Hernandez) is blasé about. Whereas Tom's dad (Steve Coulter) is focused on videoing every bit of the event while his traditionalist mom (Jennifer Coolidge) is fixated on their following family rituals and his buddy-cum-best man (Desmin Borges) on single women. The cruncher, though, is Darcy's ex Sean (Lenny Kravitz) showing up in a helicopter and outshining Tom. To be honest, it is a relief when the pirates (Pancho Cardena, Alex Mallari Jr., Tharoth Sam, Worapojd Thautanon, Zachary Wood, Vladimir Acevedo, Powpong Kopholrat, Héctor Aníbal, and Asia Munma) show up; from here on out anything goes, including Shotgun Wedding's plotline.
Jason Moore directs the piecemeal screenplay written by Mark Hammer; its inconsistencies defy rhyme or especially reason. The cast valiantly attempt to fulfill their objective. Cinematographer Peter Deming filmed in the Dominican Republic, Doc Crotzer edited, and Page Buckner's production design compliments Pinar Toprak's music. Apparently, there was behind the scenes drama early on, although that does not explain or excuse the silly, weak script and discrepancies in Moore's direction. That is not to say there are some laugh-out-loud moments, just not enough of them to save the film's tedium. (Marinell Haegelin)