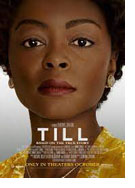 Till - Kampf um die Wahrheit (Till)
U.S.A. 2022
Opening 26 Jan 2023
Directed by: Chinonye Chukwu
Writing credits: Michael Reilly, Keith Beauchamp, Chinonye Chukwu
Principal actors: Danielle Deadwyler, Jalyn Hall, Jamie Renell, Whoopi Goldberg, Sean Patrick Thomas
Those with just an inkling of American history might have heard of the 14-year-old Black boy lynched in Mississippi in August of 1955. Emmett Till (Jalyn Hall), nicknamed Bo by his family, has grown up with a single mom Mamie (Danielle Deadwyler) in Chicago. It's not the ghetto Chicago often depicted in films. Bo's bedroom has the perfect planes/boats/cars wallpaper for boys' bedrooms of the fifties. In fact, every little detail in the film authentically reflects that era, and the middleclass milieu I recognize from my childhood. Mamie has a good job with the Air Force, is impeccably dressed, well spoken, leading a good life, and in love with her barber boyfriend Gene (Sean Patrick Thomas). However, she has a strong sense of apprehension when she sends Bo off down South to be with his cousins. She tells her free spirited son that "they've got a different set of rules down in Mississippi. You have to be extra careful."
Life in Mississippi is different. On the train southward bound, halfway through the trip, all the Blacks stand up en masse and move to the segregated part of the train. When with his relatives, city slicker Bo playfully picks a little cotton. He is bored, being used to city life; he flippantly flirts with a White cashier Carolyn (Haley Bennett), not a big deal in Chicago. The day before he is meant to return home he is kidnapped from his uncle's home by Carolyn's husband and an accomplice. No violence is depicted on screen, just a few screams in the distance as Bo is tortured, mutilated, and murdered. Still the horror of it all is only visible when Bo's family and friends view the open casket, a demand Mamie has made to show the world what they did to her son. The audience in the theater is not spared if they dare to take a look themselves.
It's a somber film, encapsuled in a sense of foreboding. Danielle Deadwyler's dignified embodiment of Mamie IS the film. Nigerian-born director Chinonye Chukwu and her cinematographer Bobby Bukowski focus on Deadwyler's every move, from her piercing wail at first seeing her son's bloated corpse to her fearless determination to take up the cause of Civil Rights. The other characters, delivering fine performances, stand a little in her shadow, but stand proudly. Grandfather John (Frankie Faison) and Grandmother Alma (Whoopi Goldberg) are almost mute presences, yet solid, reassuring figures underpinning Mamie's dignity. Whoopi Goldberg not only starred in the film but was one of the producers. Another producer was Barbara Broccoli, a world away from her James Bond franchise.
Projected on the screen at the end of the film is the information that the Emmett Till Antilynching Act, which makes lynching a federal hate crime, was passed by Congress on March 29, 2022. The filmgoer is left to decide if justice deferred is justice denied. That was a deferment of 67 years. Hopefully Till will not be just relegated to high school civics classes in those school districts which aren't afraid to make its students a little squeamish about their country's history. Till is the story of a mother's love and her relentless crusade for justice brought to life by the brilliant, bone chilling performance of Danielle Deadwyler. (Pat Frickey)


Second Opinion

Directed by Chinonye Chukwu, the backbone for Michael Reilly, Keith Beauchamp, and Chinonye Chukwu's screenplay is extensive material from Beauchamp's 2005 documentary (The Untold Story of Emmett Louis Till). The drama recreates a historical and horrific catalytic event that was the precursor to the Civil Rights Act of 1957 and contributed to that movement.
Is it so hard to imagine in 2023 that by whistling at a White woman a Black boy could find himself in a coffin? Black Lives do matter, at least we like to think, more now than in August 1955 when a mischievous and fearless Illinois youngster travels south to visit relatives. He brushes his grandmother (Whoopi Goldberg) and mom's (Danielle Deadwyler) warnings aside. Worried, Mamie reiterates "they have an extra set of rules for Negroes down there."
Money (population 396), in the Mississippi Delta, is dead quiet compared to Chicago. Emmett "Bo" Till (Jalyn Hall) wants to have fun, impress his cousins and quicky tires of boring sharecropping work. Too trusting and a tad blasé, one late afternoon Bo's mistake is being innocently cheeky to the White 21-year-old married store proprietress (Haley Bennett) – far beyond the pale in Jim Crow-era South. Invariably the White bullies (Sean Michael Weber, Eric Whitten) come hunting for Bo, forcing great-uncle (John Douglas Thompson) and Aunt Lizzie (Keisha Tillis) into being still. Mamie's worst dream materializes. Accompanied by her father (Frankie Faison), instead of fiancé George Mobley (Sean Patrick Thomas), Mamie returns to Mississippi in September for the trial. Driving into Mound Bayou, an all-Negro town where they will stay during the trial, Medgar Evers (Tosin Cole) explains to Mamie Till-Mobley the facts and challenges ahead, neither expecting to become synonymous with Civil Rights history.
Danielle Deadwyler's heart-wrenching performance is the backbone of Till – Kampf um die Wahrheit, supported by the first-rate cast. She brilliantly portrays a mother's natural anxiousness when her child travels alone, although her angst is sharpened by deep-seated racial fear, then confusion soon followed by soul-deep grief, loss, and remorseful rage. These emotions ferment into Mamie's decisions at the funeral home, thus setting her life a new course, and the country's.
Kudos to Curt Beech's production design, Cassaundra Marie's set decoration, and Bobby Bukowski's cinematography. Abel Korzeniowski's music is so mismatched to onscreen action it is annoying that, unfortunately, Ron Patane's sloppy editing only aggravates. Patane milks scenes for every drop of drama and keeps inessential scenes, e.g., the truck pulling into a side yard, that upset the storyline's flow adding to its length. Together they distract from the film's gravitas and the incident's momentousness. (Marinell Haegelin)