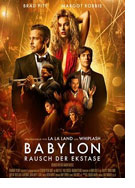 Babylon - Rausch der Ekstase (Babylon)
U.S.A. 2022
Opening 19 Jan 2023
Directed by: Damien Chazelle
Writing credits: Damien Chazelle
Principal actors: Brad Pitt, Margot Robbie, Diego Calva, Jean Smart, Jovan Adepo
Global prosperity following the first World War ushered in the 1920s, a decade incomparable with any other. In Europe and the USA, the iconic Roaring Twenties, also called the Jazz Age, is synonymous with profound change and transformations the masses could take pleasure in. More apropos is the French années folles (the crazy years) that depict writer-director Damien Chazelle's backdrop for the colossal Babylon, a hedonistic historical-drama shot through with lines of black humor. Set in California from 1926 to 1952 where a fledging filmmaking capital was reestablishing after moving from New Jersey—primarily because of Thomas Edison and George Eastman's The Trust—Hollywood and the industry flourished. Technical advancements proliferated, feature films replaced short films, genres bloomed and thrived, as did "Picture Palaces," i.e., huge urban cinemas. Studios expanded by incorporating the smaller ones thus creating the studio system.
The stellar ensemble exceptionally recreates the passion and pitfalls their characters encounter, whether engaged in or eagerly trying to gain a toehold in moviemaking magic. The opening sequence presents Babylon's main characters: the Mexican-American Manuel "Manny" Torres (Diego Calva), a paltry film assistant yearning for a more substantial mantle, the "already a star" Nellie LaRoy (Margot Robbie) whose self-centered preoccupation with becoming a leading lady obscure her noticing Manny's feelings, the top rated/paid MGM star Jack Conrad (Brad Pitt) with almost as many divorces as genres, and Sidney Palmer (Jovan Adepo), a popular band's jazz trumpet player. Revolving around these four is gossip columnist extraordinaire Elinor St. John (Jean Smart) hovering for scraps of sensationalism, the many talented Lady Fay Zhu (Li Jun Li), and studio executives: top Kinoscope Studios executive Don Wallach (Jeff Garlin) and Bob Levine (Flea) and MGM's Irving Thalberg (Max Minghella). As well are P. J. Byrne, Lukas Haas, Olivia Hamilton, Tobey Maguire, Rory Scovel, Katherine Waterston, Eric Roberts, Ethan Suplee, Samara Weaving, Olivia Wilde, Spike Jonze, Telvin Griffin, Chloe Fineman, Phoebe Tonkin, et al.; casting by Francine Maisler and Boluwatife Samson.
Recreating that long-ago era was pure artistry genius: Florencia Martin's production design, Eric Sundahl, Ace Eure, Anthony D. Parrillo, and Jason Perrine's art direction, and Anthony Carlino's set decoration set off Mary Zophres' alluring costume design. The fluidity and diversity of Linus Sandgren's canny, crafty, agile cinematography avails of southern California's distinctive light, just as Tom Cross's editing is slick, shrewd, and illuminating. Tunes of the time slip easily into Justin Hurwitz's encompassing, amazing score.
Chazelle's obsessively, decadently rigorous screenplay has a complicated, trisected storyline: historical that begets the human and societal that lead to stiffer moral stances and standards. It resonates with scenes of perspicuous sobriety: when Jack gets a truthful answer during the opening bacchanal, talking to his makeup artist on the "comeback" set, and Elinor's frank yet profane explanation to Jack. And adding historical reproductions of sets/studios transitioning from silent to sound filmmaking cause Babylon's 189 minutes to glide by. Also note the Biblical reference, i.e., Tower of Babylon Genesis 11:1–9 story and its symbolic implications. (Marinell Haegelin)


Second Opinion

Babylon is an elaborate three-hour-and-nine-minute historical homage to Hollywood—Hollywood's underbelly that is. Scenes faintly reminiscent of Fellini-Satyricon (1969) encapsulated in Dante's circles of hell, that's Babylon. Look away if you must or look more closely if you dare, there is no denying that the three hours fly by quickly. Just when you think you have seen about every sort of debauchery possible, you discover there is more on the way.
Suave, affable Jack Conrad (ironically Brad Pitt) is a matinee idol in the 1920s, the silent film era. He spends a lot of time drinking, marrying beautiful women, and living the good life. The first overworn cliché appears: can Jack successfully transition to the talkies? Exuberant, sexy Nellie LaRoy (Margot Robbie) is a nobody from Jersey whose moral compass never got set in her dysfunctional family. She will do anything, including work hard, for fame and fortune on the silver screen. Like Jack, she makes it big. So, there's the next cliché: will she able to resist shiny objects or be swallowed up, chewed, and spat out by Hollywood's excesses? Manny Torres (Diego Calva) is the true hero, the conscience of the film. He is a handsome, young, and hungry Mexican-American who has an auspicious start; in the first scene of Babylon he's trying to get an elephant up a hill to transport to a Hollywood Hills' orgy. Manny's dream is to somehow get a job on a movie set, maybe even make movies himself. Cliché number three: will Hollywood make or break a decent man like Manny?
All the performances are outstanding, including those of the entire cast. Jean Smart embodies Elinor St. John, a Hollywood gossip columnist who holds the fate of the stars in her typewriter. Li Jun Li plays Lady Fay Zhu, the seductive singing siren who could probably turn all women, at least momentarily, into her wannabe lover. Jovan Adepo perfectly portrays jazz trumpeter Sidney Palmer, a talented Black musician who sort of stumbles his way into the pictures once they add sound. That's until he is told to apply burnt cork to go darker to fit in with the rest of the Black band. Big studio bosses, gangsters, hordes of extras, and hundreds of desperate hangers-on superbly play supporting roles in this extravaganza.
This is not a film for everyone. It is meant to shock, and shock it does. Yet the human stories, many based on early cinematic legends, are movingly profound, clichés and all. Their lives are nestled in a truly authentic chronicle of the history of Hollywood, intentionally imbued with disturbing images. Adding to both authenticity and ambiance were the pulsating musical score of Justin Hurwitz, the fabulous costumes of Mary Zophres, and the historic recreation of LA and Hollywood by production designer, Florencia Martin and set decorator and Anthony Carlino. The director and writer Damien Chazelle (and former Harvard roommate of the film's composer Justin Hurwitz) also wrote and directed the complete antithesis of this film, La La Land (2016), the highly acclaimed, upbeat, cheerful musical also about Hollywood. Maybe it was too much for him, this frilly light-hearted headiness. Perhaps on the set of La La Land Chazelle already got the itch to film the darker side of the Hollywood dream. And film it he certainly did. (Pat Frickey)