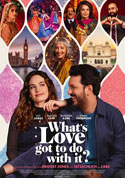 What's Love Got to Do with It?
U.K. 2022
Opening 23 Feb 2023
Directed by: Shekhar Kapur
Writing credits: Jemima Khan
Principal actors: Lily James, Emma Thompson, Shazad Latif, Oliver Chris, Nosheen Phoenix
It's reminiscent of all the romcoms spawned from When Harry Met Sally in 1989, except she's the girl next door, except it takes place between London and Lahore, and (more dramatically) except her family is White and his is from Pakistan. The romcom formula screams out to the moviegoer, there is nothing subtle here. Chock a block with clever quips, pun upon pun upon pun, bursting with clichés; it's a whole lot of fun to watch as it doesn't stray far from the magic blueprint the moviegoer has come to expect. Some quips seem brashly culturally insensitive, but hey, the formula is twenty-five years old. Ouch.
Zoe (Lily James) is a single, very attractive thirtyish successful documentary filmmaker looking for her next subject, and quite unsuccessfully for her shining prince. She's apparently hung up on fairytales and happily ever afters though she admits she is just looking for someone to watch an entire series with. While visiting her overly exuberant mother Cath (Emma Thompson) at her childhood home she meets up with her former neighbor Kaz (Shabana Azmi), who is dining with his parents. He just also happens to be dishy, he just also happens to be a doctor, and he just also happens to be single. And didn't they share their first kiss in his treehouse many years ago? Kaz has just decided to follow his parents' wishes and find a bride through a matchmaker for an arranged marriage, modernly rebranded "assisted" marriage. Zoe, desperate for an original documentary, gets Kaz's family's permission to film his traditional journey for finding a bride. The local matchmaker Mo's efforts prove fruitless as Kaz is still hoping for something to CLICK. Eventually Kaz's mother (a delightful Shabana Azmi) and father reach out to friends in Lahore and find a suitable match. Their lovely, seemingly docile daughter Maymouna (Sajal Aly) meets Kaz over Skype; she seems perfect, and they decide to marry. Does no one in either family notice Maymouna's doleful, Bambi eyes?
Zoe, Cath, and Kaz's family all travel to Lahore for an extravagant three-day-dazzling wedding celebration (Bollywood, beware of a little competition). Kaz is eager to show Zoe all the sights, and the two finally have some together time including heart to heart talks about love and marriage. That CLICK Kaz is searching for, the handsome prince Zoe admittedly yearns for, are in plain sight. The documentary filmmaker and the betrothed groom ignore their longings and Kaz marries Maymouna.
Of course, the film doesn't end there. Remember, this is a romcom.
The writer Jemima Khan has written a love letter to both Pakistan and British Pakistanis. This is understandable since she was married for nine years to Imran Khan and has two sons with the dashing ex-cricket captain and former prime minister of Pakistan. There was another more surprising tribute embedded in the film, Jemima's adoration for her late friend Princess Diana. There is a photo of the princess on the matchmaker's bookshelf. There is talk of Diana being madly in love with Pakistani surgeon Hasnat Ahmad Khan. And Kaz repeats Charles' famous line when questioned about love at his own engagement: "Whatever in love means". That was touching, poignant. So why did the filmmakers really have to explain the origin of that statement later on in the film? One cliché is scuttled; no one can accuse this film of British understatement. (Pat Frickey)


Second Opinion

In this romantic comedy, childhood friends in their early 30s approach the prospect of finding a romantic partner from different perspectives. Zoe (James) is a documentary film maker living in London and, to her mother's chagrin, still single. Kaz (Latif), a doctor who grew up next door to Lily, is the son of immigrants from Pakistan, and is also single. While Zoe uses dating apps to go on one disastrous date after another, Kaz is persuaded by his parents to have a traditional arranged marriage, like their own. Despite her surprise at Kaz's decision, Zoe sees a professional opportunity, and decides to make a film about his journey to the altar, documenting the process from consulting a matchmaker to the wedding in Lahore. Along for the journey are Kaz's family, headed by the loving matriarch (Azmi), and Zoe's mother Cath (Thompson), who is happy to celebrate anything, anytime.
I mentioned that this is a rom-com, so it's clear from the jump where this is going romantically. And much of the movie is predictable fare, from the wacky minor characters to the winding path keeping our star-crossed lovers apart. But there are a few notable elements that make What's Love Got to Do with It? stand out for the genre. First, scriptwriter Jemima Khan is an English woman who was formerly married to Imran Khan, a Pakistani cricket player and prime minister of Pakistan from 2018–22. Her script does a good job of questioning and inverting cultural assumptions and prejudices – and Indian filmmaker Shekhar Kapur highlights the complexity of family expectations for the British, British-Pakistani, and Pakistani characters. Second, Zoe's ambivalence towards traditional heteronormative desires, particularly having kids, is refreshing in a movie that's essentially all about pairing off. Some elements, however, stand out unfavorably for me, such as how Zoe's best friend handles developments in her marriage, and how over the top Emma Thompson is in her role, overdoing everything in a bizarrely distracting and unexpected manner for such a great actor. Ultimately, it's an enjoyable romp, filled with visual delights from London to Lahore, but nothing much I'll remember a year from now. (Diana Schnelle)