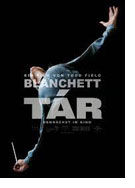 Opening 2 Mar 2023
Directed by: Todd Field
Writing credits: Todd Field
Principal actors: Cate Blanchett, Noémie Merlant, Adam Gopnik, Marc-Martin Straub, Egon Brandstetter
Two-time Oscar-winner Cate Blanchett (The Aviator, Blue Jasmine) is headed for her third Academy Award with her portrayal of Lydia Tár, a fictitious world-famous conductor and composer, who has made it to the top in a world of classical music which is mainly dominated by men. She has worked with the most famous orchestras, won countless awards, including the EGOT (Emmy, Grammy, Oscar and Tony Awards), and has for the last few years been the chief conductor of the Berlin Philharmonic. The movie starts with Lydia being interviewed by Adam Gopnik (as himself) for The New Yorker Festival, and we learn about all her achievements, as well as her two current projects, one being the launch of her biography entitled Tár on Tár, the other the completion of the full Mahler cycle with the same orchestra in a live-performance, this last piece being Mahler's Fifth Symphony.
The next few weeks, as we follow her in rehearsals in Berlin and teaching class at Juilliard, as well as at home with her wife and concertmaster Sharon (Nina Hoss) and their adopted daughter Petra, we watch her life unravel. Her assistant Francesca (Noémie Merlant) as well as Sharon watch with growing jealousy how Lydia's interest in Olga, a young Russian cellist (real-life cellist Sophie Kauer is amazing in her acting debut) is developing. Being the powerful maestro she is, she manages to get Olga the solo part in Elgar's Cello Concerto, which she chooses as the companion piece for Mahler's Fifth.
When emails and rumours emerge about Lydia's sexual grooming of a former fellowship student, Krista, who ultimately commits suicide, leaving a note with heavy allegations against Lydia, she is forced to take a lawyer; her standing is diminished and her reputation tarnished. She is replaced as conductor, but cannot take the humiliation. She rushes onstage during the live-recording and pushes her replacement off the conductor's stand. Feeling abandoned by everybody, she returns to her childhood home on Staten Island, where we learn about her humble background, including the fact that her real name is Linda Tarr.
At the end of the movie, we find Lydia in South East Asia, conducting a very different kind of orchestra. More than 2 1/2 hours long, director Todd Field (Little Children) gives us a stunning, intelligent and powerful movie, accompanied by unforgettable musical performances, that is worth every minute of your time, and is sure to win some more awards. (Ulrike Lemke)