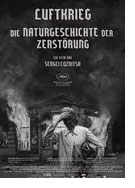 Luftkrieg – Die Naturgeschichte der Zerstörung (The Natural History of Destruction)
Germany/Lithuania/The Netherlands 2022
Opening 16 Mar 2023
Directed by: Sergey Loznitsa
Writing credits: Winfried Georg Sebald

Based on the 1999 book Luftkrieg und Literatur by German writer W.G. Sebald, The Natural History of Destruction is an extraordinarily harrowing work that bears cultural witness to the Allied carpet bombing of German cities during World War II. To this day, the horrific suffering of large portions of the population has remained largely unexplored in the public mind. Author Sebald described the reason: "There was a tacit agreement, equally binding on everyone, that the true state of material and moral ruin in which the country found itself was not to be described. The darkest aspects of the final act of destruction, as experienced by the great majority of the German population, remained under a kind of taboo like a shameful family secret . . . that perhaps could not even be privately acknowledged."
Ukrainian filmmaker Sergey Loznitsa visualizes Sebald's ideas in this astonishing experimental documentary. Reinvented "ambient" sound (kudos to sound designer Vladimir Golovnitski) accompanies archival footage of regular people going about their daily lives: engaging in peaceful pre-war activities, manufacturing weapons, dropping bombs, and suffering unspeakable horrors as their cities are annihilated. Dedicated munitions workers in Britain and Germany use precisely engineered technology to shape devastating weapons of mass destruction. Flak and tracers form lovely spirals in the sky as bombers drop them on the population below.
Once the aerial bombing of civilians has stopped and the war is over, Göring, Churchill and King George VI can variously be seen visiting the ruins. Meanwhile, the populace search for loved ones among long lines of bodies laid out on the sidewalks, handkerchiefs pressed to their mouths against the stench. Barefoot survivors leave the bombed-out cities, pulling makeshift carts holding their few remaining possessions across cobblestones. Trummerfrauen get to work, clearing rubble in the aftermath. There is striking footage of Hamburg's Landungsbrücken and main train station.
The Natural History of Destruction is a fierce protest against the deception and moral evasiveness of our time. The film, which premiered at Cannes in 2022, takes on a new dimension today in view of the political urgency of its subject. How is it possible that killing other people is still seen as a universal means of reaching political or economic goals? The film makes the absurdity of mass extermination excruciatingly clear – and once seen, such destruction can never remain unseen.
Director Sergey Loznitsa will attend a special screening of The Natural History of Destruction at Abaton Kino in Hamburg on March 18, 2023, at 5:00 p.m. (Brenda Benthien)