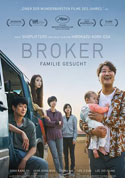 Broker - Familie gesucht (Broker, Beurokeo)
South Korea 2022
Opening 16 Mar 2023
Directed by: Kore-Eda Hirokazu
Writing credits: Kore-eda Hirokazu
Principal actors: Song Kang-ho, Gang Dong-won, Bae Doona, Ji-eun Lee, Lee Joo-young
Japanese writer-director-editor Hirokazu Kore-eda's compelling, offbeat tragicomedy offers a puzzle worth solving. Each piece that fits just adds to the tangled complexity of the shenanigans afoot while promoting different emotional outcomes. Woo-Son is lovingly left (anonymously) in the baby drop box at the small church with a note attached from his mother. The next stop for Woo-Son is a hand-laundry, and mild-mannered Sang-Hyun (a warmhearted, charismatic Song Kang-Ho [Parasite]). He works in cahoots with friend Dong-Soo (Gang Dong-Won) whose plans, while not kosher, do serve an obligatory purpose: childless couples become parents and baby marketeers prosper.
The young mother shows up intending to follow-through on her promise and instead catches the duo off-guard; So-Young (the singer IU's debut film role) sums up their extra-curricular activity succinctly: broker. Broker of good will agrees Sang-Hyun grinning. So-Youngs's determination to be involved and her complicated impenetrability convince them having her along is all-around better. Leaving coastal Busan in Sang-Hyun's old beat-up van, surprises along the way amicably unite them in their cause by the time they arrive at the orphanage. Its director (Song Sae-Byeok) and wife (Kim Sun-Young) clearly know the men; they are hospitable, the surroundings relaxed, and so they leave unawares a stowaway is aboard. Once impish Hae-Jin (Lim Seung-Soo) is discovered his contagious playfulness brings about an unlikely, and ill-timed, family-like bonding that turns the road trip into an adventure. However. Unbeknownst, a resolute Detective Soo-Jin (Bae Doo-Na) and Detective Lee (Lee Joo-Young) are tailing them, unswerving in their pursuit of justice.
The cast's brilliant performances give short shrift to Kore-eda's black-market baby peddling theme, instead drawing out these quirky characters' sensibilities and propensity for emotional interconnection. Kore-eda's balanced and astute screenplay has black comedy hugging its periphery, is lively and amazingly, it manages to bind audiences to the culprits being successful rather than the predicament. Hong Kyung-pyo's sensitive cinematography provides breathing space, Kore-eda Hirokazu's editing is embracing and Jae-il's spirited score is in harmony.
Kore-eda does not forget Woo-Son is at the heart of this unusual story, so rest assured audiences are not left to wonder at the tyke's future. Kore-eda's Shoplifters won the 2018 Palme d'Or at Cannes Film Festival and Broker was a 2022 nominee. (Marinell Haegelin)