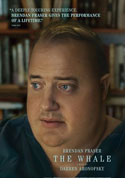 Opening 27 Apr 2023
Directed by: Darren Aronofsky
Writing credits: Samuel D. Hunter
Principal actors: Brendan Fraser, Sadie Sink, Ty Simpkins, Hong Chau, Samantha Morton
The Whale is a hard, deep probe into choices, the repercussions within relationships and how truth can set one free. Playwright Samuel D. Hunter worked his award-winning 2012 eponymous play into the screenplay that director Darren Aronofsky (Black Swan, 2010; The Wrestler, 2008), with a faultless cast, shapes into an arresting, compulsive and mesmerizing film.
Brendan Fraser's performance as Charlie is exemplary – a recluse weighed down by intense unadulterated feelings of regrets and self-blame. Working as an on-line teacher, Charlie's swollen, obtrusively obese body blocks him from moving about freely. Fraser's mood-driven facial tics and emotional eye expressions work overtime to express his pain, remorse, loss, and remembrances. Hong Chau as Liz, Charlie's unofficial nurse and fiercely protective friend is impressive. For example, her reactions when the bible thumping missionary Thomas (Ty Simpkins) appears, and when his fire-breathing daughter Ellie (Sadie Sink) storms back into his life spewing coarsely worded anger and blame. Charlie does a deal that intrigues Ellie into silence; Charlie has an ulterior motive with a catch, that can also be a release. "It is his eternal positivity," complains Samantha Morton as Mary, Charlie's ex-wife; Morton's short on-camera appearance is memorable. As things happen around him, everyone clearly chooses their own path. C'est la vie.
Fraser spent four hours getting prosthetics and make-up applied that took one hour to remove during the 40-days of filming. Aronofsky's regular collaborators, cinematographer Matthew Libatique and editor Andrew Weisblum, work in tandem to create the atmosphere, and expand inherent physical boundaries whereby for audiences the character's physicality becomes secondary to his psychological quandaries. Libatique cleverly juxtaposes dimly lit, confined areas with Fraser's eloquent portrait of someone feeding feelings that are too difficult to express. Weisblum's structure carefully focuses on scenes pacing, timing and visual positioning. Mark Friedberg and Robert Pyzocha's production design open spaces that Rob Simonsen's evocative music fill.
Audiences are guaranteed a visceral journey on a rollercoaster of unrelenting emotive highs and lows. It is Aronofsky's trademark, which in retrospect is why so many of his films are memorable. Squirm, cry, smile, sigh – feel. Life experiences will likely determine how much one does, or chooses to take away from the piercing drama of redemption, determination, and love. Brendan Fraser won the Oscar® for Best Actor- and was nominated for a BAFTA for The Whale. (Marinell Haegelin)