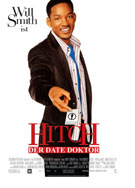 Hitch - Der Date Doktor (Hitch)
U.S.A. 2005
Opening 3 Mar 2005
Directed by: Andy Tennant
Writing credits: Kevin Bisch
Principal actors: Will Smith, Eva Mendes, Kevin James, Amber Valletta, Julie Ann Emery
Hitch, directed by Andy Tennant (Ever After, Anna and the King), brings together Will Smith (Men in Black, Independence Day), Eva Mendes (Stuck on You), Kevin James (TV's The King of Queens) and Amber Valletta (Family Man, The Duplex), in an entertaining romantic comedy.
Alex "Hitch" Hitchens (Smith) is a legendary, but anonymous, date doctor. He specialises in coaching helpless men so that they can woo the woman of their dreams. While his methods are questionable, his intentions are good: he only fosters noble causes and has no difficulty turning down a client if he is in the slightest doubt about his reason for coming to him.
Albert (James) represents the ultimate challenge for Hitch. He is a mild-mannered, embarrassingly clumsy accountant, who is head over heels in love with Allegra Cole (Valletta), a glamorous and wealthy celebrity. The date doctor works his magic and everything is set for true romance to flourish between the unlikely couple. In the meantime, Hitch meets Sara Melas (Mendes), a gossip columnist, in a bar. He is immediately attracted to her and begins seducing her with his tried and true techniques; and it's working well – until she discovers his identity and jumps to some hasty and misdirected conclusions.
The cast of Hitch may well be the ingredient that makes this movie pretty entertaining. It's a romantic comedy with the predictable twists and turns, but it has enough laughs and charm to warrant a cinema visit for fans of the genre. (Osanna Vaughn)