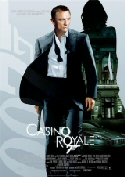 Opening 23 Nov 2006
Directed by: Martin Campbell
Writing credits: Neal Purvis, Robert Wade
Principal actors: Daniel Craig, Eva Green, Mads Mikkelsen, Judi Dench, Jeffrey Wright
Sony Pictures Releasing presents Daniel Craig (Love is the Devil,Tomb Raider) as 007, James Bond, in a remake of Casino Royale, based on Ian Fleming's first Bond novel and directed by Martin Campbell (GoldenEye, The Mask of Zorro). Eva Green ( Kingdom of Heaven) plays Vesper Lynd, and for the fifth time Dame Judi Dench (Iris, Shakespeare in Love, Mrs. Henderson Presents) takes on the role of "M". Le Chiffre, Bond's creepy opponent across the poker table, is played by Mads Mikkelsen. The entertaining script was put together by Neal Purvis, Robert Wade and Academy Award winner Paul Haggis ( L.A. Crash, Million Dollar Baby).
James Bond – only recently elevated to the 00 status with a licence to kill – is on the trail of Le Chiffre, an international criminal who has specialized in laundering and banking money for terrorist organizations. Le Chiffre has a weakness, however: poker and playing shady games on the stock exchange. When his elaborately laid plan to make a fortune on the market is foiled by Bond, the gambler loses millions of his clients' money, which he desperately needs to recuperate if he wants to stay alive. Le Chiffre's solution is to set up a high-stakes poker game at the Casino Royale: ten players, each bringing 10 to 15 million dollars to the table.
M16 sends Bond to take part in the game. The idea is to keep Le Chiffre from winning and being able to further support terrorist actions around the world. To keep a close eye on the government's money and to ensure it is not recklessly gambled away, Bond is accompanied by the beautiful and intelligent accountant, Vesper Lynd. The two fence cleverly with words at their first encounter, each defending their position and protecting themselves from closer involvement; however, when the action gets intense and their lives are on the line, they are irresistibly drawn together...
It's good to be able to say that this Bond movie is not just more of the same. Instead of the opening sequences with incredible stunts in cars, boats or aeroplanes, we have a Bond who is very physical, running, climbing, leaping, hands on tackling, getting beaten up and surviving through it all, if somewhat worse for the wear. Daniel Craig is more reminiscent of Sean Connery in the early days, than the more elegant Roger Moore and Pierce Brosnan of later Bond films. Even with his clothes on, he's physically convincing as a secret agent, and with eyes as blue as his, it's not hard to believe he can charm most women. The script is amusing and clever, and Bond's character has a development which, according to Craig, is much closer to the original character of Fleming's books. (Osanna Vaughn)