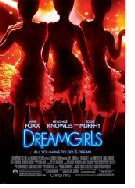 Opening 1 Feb 2007
Directed by: Bill Condon
Writing credits: Bill Condon, Tom Eyen
Principal actors: Jamie Foxx, Beyoncé Knowles, Eddie Murphy, Danny Glover, Jennifer Hudson
For me to have the chance not only to hear the celebrated music of the Broadway musical Dreamgirls but see it again after 25 years, brought me not walking but running to the new movie adaptation, directed and written by Bill Condon of recent movie-musical Chicago fame. Dreamgirls is loosely based on the story of music mogul Berry Gordy and the rise of Dinah Ross and the Supremes. The superstar star cast of Jamie Foxx as Curtis Taylor, Jr, Beyonce Knowles as Deena Jones and Eddie Murphy as James "Thunder" Early (with a "mean" nod at a young James Brown) throws me not only back to 1982, but plunges me forward into the "new" world of today's movie musical medium, with constant touches of today's contemporary music wrapped together with the pureness of what was once created by Broadway legend Michael Bennet.
The movie medium achieves what the Broadway stage could never do (not that this is always a positive thing), namely, extend the stage audiences' imaginative elements into realistic pictures. Therefore, Condon is able to expand further with Dreamgirls on the basic template of Broadway writer-lyricist Tom Eyen's original book, placing a larger focus on the struggle of black performers against a background of racism, inequality and civil unrest. The movie examines more closely the casualties and compromises of fame. The story's principal focus, however, is family—tracing bonds of shared experiences that are cemented, broken and then once again healed.
Shifting between spoken word and song sometimes throws novice viewers of the movie-musical genre off-balance. However in Dreamgirls, Condon achieves with the first few songs performed in a narrative context the necessary ease of flow of the picture. Taking it slowly at first to make the audience more and more comfortable with the medium, Condon then opens into the full-blown, sung dialogue exchanges as the emotional stakes are raised.
The acting in Dreamgirls supports the success of this adaptation with numerous breakthrough performances. Eddie Murphy is a revelation - his performance leaps off the screen both with his sizzling musical numbers and his pure and honest dialogue scenes. He will not be overlooked at award season. An American Idol finalist without prior screen experience, Jennifer Hudson, will always be compared to Broadway diva Jennifer Holliday's devastating delivery of "And I Am Telling You I'm Not Going." Amazingly, she emerges as a new Effie', full of her own flavour, and with a voice that was meant to bring us to our feet, as we once did so many years ago at the Imperial Theater on West 44th! (Trish Freund)