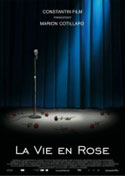 Opening 22 Feb 2007
Directed by: Olivier Dahan
Writing credits: Olivier Dahan, Isabelle Sobelman
Principal actors: Marion Cotillard, Sylvie Testud, Clotilde Courau, Jean-Paul Rouve, Pascal Greggory
La Vie en Rose is the bittersweet life story of French singer Edith Piaf. Edith (Marion Cotillard) was born into poverty in the tenements of Belleville in Paris and totally neglected by her street singer mother (Clothilde Courau). At age three she was removed to her fraternal grandmother who ran a brothel in Normandy. Here, at least, she received love from the young prostitutes, especially from Titine (Emmanuelle Seigner). This stage of her life abruptly ended though when her alcoholic father took her to accompany him as a travelling acrobat. At age 15 Edith returned to Paris on her own to follow in her mother's footsteps – living hand to mouth as a street singer.
Luckily for Edith in Paris she found a friend for life in Momone (Sylvie Testud). Her career with its ups and downs and accidents and coincidences begins. Louis Leplée (Géraud Dépardieu) hears Edith singing on a street corner and offers her a first chance at a nightclub début. But it is finally from Raymond Asso (Marc Barbé) that she learns how to train her voice and how to really interpret the meanings of the words in her songs. From this point on her career booms but her fragility is clearest seen in her relationship to married boxing champion Marcel Cedan (Jean-Pierre Martins) who was killed in a plane crash in 1949.
Edith's life becomes melodramatic. She becomes addicted to drugs, her emotions run the gamut from agony to ecstasy. She is then later diagnosed with cancer and even in this zombie state she is driven to perform and triumphs with "Non, je ne regrette rien" sung at the Olympia in Paris in 1960. The "soul of Paris" dies in total isolation (and peace) in Grasse in 1963.
Marion Cotillard does a stunning portrayal of Edith and this Edith – simply dressed in black – is unforgettable as the film opens in a New York concert and ends at the Olympia. Even the sudden switches in the story which change from Paris and New York, to Normandy and Grasse, do not disturb the smoothness of the film. They keep your mind working full speed. (Thelma Freedman)