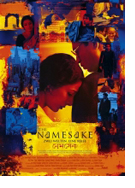 The Namesake-Zwei Welten, eine Reise (The Namesake)
India/U.S.A. 2006
Opening 7 Jun 2007
Directed by: Mira Nair
Writing credits: Sooni Taraporevala, Jhumpa Lahiri
Principal actors: Irfan Khan, Kal Penn
Based on the novel of same name by Jhumpa Lahiri, who won the Pulitzer Prize in 2000 for her book, Interpreter of Maladies, Mira Nair (Monsoon Wedding) cites it as the closest of her films to her own life, as she lived in Calcutta for twelve years, then New York City for twenty-five.
Ashima (the incredibly beautiful Tabu) decides she likes the young engineer, Ashoke Ganguli (outstandingly played by Irfan Khan) her parents have arranged for her to marry, even before she see him, because of the western-style shoes he has left outside the door of her parent's Calcutta home.
They soon marry and move to Queens in New York as the film follows their lives for 25 years, with the story centering around their son, Gogol (Kal Penn, Harold & Kumar ) examining his conflicts growing up as the child of immigrants, dividing his identity. A major dispute with his parents is his name, unusual in the American culture, which he tries to change to Nikhil, Nikolai, or Nick.
Also, beautifully filmed, it is a treat to see the Ganguli family visiting the Taj Mahal. This trip inspires the two children, especially Gogol. To quote N. Dasgupta, "(The Namesake is)...an otherwise simple story (told) with human emotions and displays of courage that are so honest, one can relate to them effortlessly and draw parallels with one's own experiences." (Nancy Tilitz)