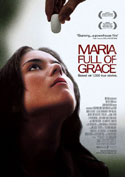 Maria voll der Gnade (Maria Full of Grace)
U.S.A./Colombia 2004
Opening 21 Apr 2005
Directed by: Joshua Marston
Writing credits: Joshua Marston
Principal actors: Catalina Sandino Moreno, Yenny Paola Vega, Virgina Ariza, Johanna Andrea Mora, Wilson Guerrero
At just seventeen, Maria (Catalina Sandino Moreno) wants to live life to the fullest but finds herself stifled by her family and her job in a small town north of Bogotá. She works with her best friend Blanca (Yenny Paolo Vega) stripping thorns from hundreds of roses to prepare them for bouquets for export. It is the only work in town with just weekend dance parties to break the tedium. Her boyfriend Juan (Wilson Guerrero) is more interested in hanging out on the sidelines than salsa dancing with Maria. At home Maria must give her hard earned money to her mother for the care of her sister and new baby.
The tedium at work combined with ridiculous rules that dictate even how often Maria can use the bathroom drives Maria mad. Feeling nauseated, she asks again to be excused but her boss just screams at her as she upchucks all over the beautiful red roses. When told she will have to pay for the damage, she quits to the great dismay of her family. What they don't know is that Maria is pregnant. When Maria tells Juan about their baby, he offers to marry her but it is clear that he does so more out of obligation than love. Instead, Maria decides to find work in Bogotá. On the way there, she meets again a handsome drifter, Franklin (Jhon Alex Toro), who offers Maria work that pays well and lets her travel. Maria decides to accept the cash, agreeing to become a mule and transport heroine to New York in her stomach. She meets another experienced mule, Lucy (Guilied Lňpez), who provides some training tips: how to dress, how to swallow whole grapes to prepare for the heroine pellets, how to act. Even though Maria learns that she will die if one of the pellets breaks open, she still agrees to the deal convinced that the money is the solution to all of her problems and a way to live the exciting life she craves.
Getting ready to leave, Maria is shocked to find out that Blanca, too, has accepted work as a mule. Maria, Lucy, Blanca and another woman all take the same flight to New York. The trip begins badly when it becomes apparent that Lucy is sick, showing signs that one of the heroine pellets has burst. Upon arrival in New York, the fourth woman is arrested and Maria is taken aside for questioning. Only Maria's pregnancy saves her from the x-ray that would have revealed her cargo, and she is reluctantly released. The three girls then go together to the dealer for the humiliating process of delivering their drugs and getting the cash. But serious problems are only just beginning.
Director Joshua Marston lives in Brooklyn, which is home to many Columbian immigrants. Although his film is fiction, he draws upon stories that he has heard from Columbians about their lives before in Columbia and now in New York. He had heard of drug mules, but wanted to better understand their motivation and the process, so he spoke with many mules serving prison sentences and with Customs officials at Kennedy Airport. Although it was easy to find out how drugs were transported, understanding why people agreed to risk their lives in trafficking was much more complex. Through his research he met Columbian Orlando Tobón, a leader in the community who has tried to help mules and their families for over 25 years. Tobón inspired the character Don Fernando and in fact plays the character himself. Tobón has arranged to ship well over 400 bodies back to Columbia. All together the characters of this moving drama reveal some of the compelling dilemmas faced by young people, ostensibly searching for a better life, caught up in circumstances they can no longer control. (Mary Nyiri)