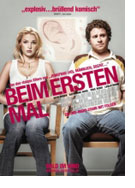 Beim ersten Mal (Knocked Up)
U.S.A. 2006
Opening 23 Aug 2007
Directed by: Judd Apatow
Writing credits: Judd Apatow
Principal actors: Seth Rogen, Katherine Heigl, Paul Rudd, Leslie Mann, Jason Segel
Slacker Ben Stone (Seth Rogen) knocks up gorgeous Alison Scott (Katherine Heigl) on a drunken first date, and so begins Ben's long journey to overcome his age-old enemy: maturity. Judd Apatow, the director who brought us the hilarious 2005 comic hit The 40 Year Old Virgin, is behind this very funny and at times tender look at how these two polar opposites choose to deal with the consequences of their drunken night.
Our story begins when we learn that Alison (bright, beautiful, and ambitious) has just been promoted from assistant producer to on-camera interviewer of the stars at E! Entertainment. To celebrate, she goes out on the town with her well-put-together sister (played wonderfully by Leslie Mann, Mrs. Apatow). Alison is drawn to Ben when, in an act of chivalry, he scores two beers for her and her sister from a rude, inattentive bartender. From the outset it is clear that Ben is just all wrong for Alison. He represents everything that she isn't: he's completely out of shape, lacks ambition and sports a permanent five o'clock shadow. However, in her drunken state, she has no problem taking him home for a celebratory roll in the hay. It's not until the next morning when looking down on his rather large naked derriere that she realizes how far she has strayed from her "type."
The movie jumps several months ahead as Alison learns about the consequences of her forgettable one-night stand. She is determined to do the right thing and have the baby, even if it means going it alone. However, Ben won't have that and announces he'is "on board." Slowly and somewhat painfully we watch as these two polar opposites take time to get to know one another after the fact.
This is where Judd Apatow's talent is truly evident. He makes the simple occurrences in the lives of human relationships important and funny. There are several moments that ring true but without being shallow or obvious. Alison's sister Debbie and her husband Pete (hysterically played by Paul Rudd) give the couple a jaded look at being married with children and the toll it takes on their relationship. Equally fitting are Ben's slacker friends: Jay, Johan, Jason, and Martin (played respectively by Seth Rogen's real-life best buddies Jay Baruchel, Johan Hill, Jason Segel, and Martin Star). This motley crew does an amazing job of re-creating the typical stoner party house (don't ask me how I know this.)
Knocked Up is a definite winner in my book! (Karen Engelke)