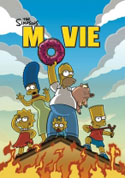 Die Simpsons - Der Film (The Simpsons Movie)
U.S.A. 2007
Opening 26 Jul 2007
Directed by: David Silverman
Writing credits: James L. Brooks, Matt Groening, Al Jean, Ian Maxtone-Graham, George Meyer
Principal actors: Dan Castellaneta, Julie Kavner, Nancy Cartwright, Yeardley Smith, Harry Shearer
You may be forgiven for thinking that after watching The Simpsons on T.V. for the last twenty years there couldn't be anything new to say about America's most famous dysfunctional family. Top marks, then, to Matt Groening, the creator and executive producer, for making a movie which is fresh, funny and very entertaining.
From the first minute until the very end of the credits, I promise that you'll be laughing out loud. Mr. Groening's satire seems sharper, and his humour is darker and more risqué here than it is in the T.V. series, and this may be why the movie was given a PG-13 rating in the U.S.
Arnie is in the White House ("I don't read, I lead"), and he has unwittingly given the Environmental Protection Agency untold power. Activist Lisa, true to form, tries to get Springfield's residents to start caring about the pollution in their town. Nobody takes the slightest notice of her campaign, least of all her father. Homer continues to use Lake Springfield as a dumping ground, and when something hops out of Lake Springfield which has a direct link to Homer, he's bound to be in big trouble with his daughter and the E.P.A., isn't he? And so another day in the Simpson household begins.
Homer falls in love (surprisingly) and so does Lisa. Marge tries to assert her authority and impose order on chaos, and at last baby Maggie removes her comforter and says her first word, which, not surprisingly, begins with s. Bart, who continues to be that exasperating mixture of nasty little kid and little boy lost that you love to hate, is the catalyst linking everything and everyone together in the fast moving plot.
Mr. Groening's fellow producers are Oscar winner James L. Brooks, Al Jean, Mike Scully and Richard Sakai. They must have had as much fun making this movie as you'll have watching it. (Jenny Mather)