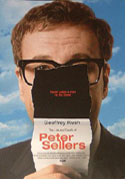 The Life and Death of Peter Sellers
U.S.A./U.K. 2004
Opening 28 Apr 2005
Directed by: Stephen Hopkins
Writing credits: Roger Lewis, Christopher Markus, Stephen McFeely
Principal actors: Geoffrey Rush, Charlize Theron, Emily Watson, John Lithgow, Miriam Margolyes
This Stephen Hopkins film bring us Geoffrey Rush (Shakespeare in Love, Pirates of the Caribbean) in an excellent portrayal of Peter Sellers, supported by great performances from Charlize Theron, Emily Watson, Miriam Margolyes and many more recognisable faces, including a brief appearance by super-model Heidi Klum playing Ursula Andress.
Peter Sellers' (Rush) story, as brought to us by Stephen Hopkins, is the classic tale of the clown showing his audience a constantly comic façade, while his real life is a crumbling disaster. The film opens at the point when Sellers makes the leap from radio fame (as one of The Goons) to the silver screen, garnishing the British Film Academy Award for his first ever film role. The driving force behind him is his mother Peg (Margoyles) who sees Peter as a way to redeem her apparent failure of a husband. At this time in his life, Sellers is married to Anne (Watson) and appears to be a caring, fun partner. Celebrity quickly goes to his head however, and when he fancies himself in love with his latest co-star – the Italian beauty Sofia Loren – he has little difficulty in discarding his wife and two children for what turns out to be a totally one-sided infatuation. The temper tantrums that become more frequent as the material possessions increase, along with his obvious philandering, make Anne's choice to find her happiness elsewhere relatively easy.
And so the story continues till Sellers' premature death at 54. His second marriage to Britt Eckland (Theron) ended in a similar disaster and was followed by two more; yet his film performances were frequently brilliant, in spite of a number of flops. His first American Academy Award nomination came for Dr. Strangelove, directed by Stanley Kubrick (Stanley Tucci), but his failure to win sent Sellers into a depression. Maurice Woodruff (Stephen Fry), a dubious fortune-teller who takes money from third parties to manipulate his famous clients in certain directions, steers Sellers to making a second Pink Panther movie directed by Blake Edwards (John Lithgow) whom the comedian despises; yet the movies they did together are some of the public's favourites.
Finally Sellers begins to suspect that he has no idea of who he really is, having lost himself somewhere along the way, amid a cast of colourful and popular characters. From this acknowledgement comes a desire to do some more serious work; and, though most of his efforts were in vain, he did realise his one passionate dream: the film Being There, which afforded him his second Oscar nomination.
The Life and Death of Peter Sellers falls short of being excellent for a couple of reasons. One thing that irritated me was the fact that during many years of the actor's life, his children and first wife remain exactly the same age. Why? I wonder. It seems such a small thing to do right, but it wasn't. Geoffrey Rush is, however, outstanding and, at certain moments, one is convinced that it is Peter Sellers standing in front of the camera. (Osanna Vaughn)