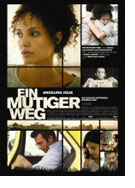 Ein mutiger Weg (A Mighty Heart)
U.S.A./U.K. 2007
Opening 13 Sep 2007
Directed by: Michael Winterbottom
Writing credits: John Orloff, Mariane Pearl
Principal actors: Dan Futterman, Angelina Jolie, Archie Panjabi, Mohammed Afzal, Mushtaq Khan
Journalist couple Mariane (Angelina Jolie) and Daniel Pearl (Dan Futterman) are in Karachi, Pakistan, where Daniel is researching a story on the shoe bomber, Richard Reid. Daniel has a high-level job as South Asia Bureau Chief for the Wall Street Journal. His wife is five months pregnant. On Jan. 23, 2002, he left the walled compound where they lived for a meeting from which he would never return. In effort to find him, their neighbors' telephone lines were appropriated, and immediately their home was converted to a bustling nerve center for Pakistan and U.S. authorities – the ambassador even brought in his private chef.
This docu-drama follows the turbulent five weeks of the cooperative investigations, until Daniel's beheading was confirmed. Among the numerous flashbacks was an earlier meeting with a government official that sealed Pearl's fate, when he did not deny that he was Jewish.
Director Michael Winterbottom (The Road to Guantanamo) had filmed In This World in Pakistan in 2001 and was familiar with the dangers for foreigners there, especially since 9/11. "We filmed on the streets and in the real locations where Danny went …We want the audience to trust that they are seeing an accurate account of what happened," staying close to Mariane Pearl's memoir A Mighty Heart:The Brave Life and Death of My Husband Danny Pearl, co-written with Sarah Crichton. The film's glaring message was that ex-pats and locals could not freely mix, and also there was a huge economic gap between them.
The Captain (Irfan Khan, The Namesake) was a more complicated, interesting character, worth noting. Otherwise this noble film was a bit confusing and jumped around through a mountain of characters who got lost in all the flashbacks. Angelina Jolie was great, but her constant humorless stoicism in this impossible situation was difficult to watch. The minute of the Pearls' wedding at a French chateau was probably added to show a happier time but seemed totally out of place. (Nancy Tilitz)