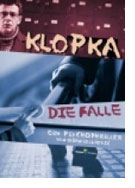 Opening 11 Oct 2007
Directed by: Srdjan Golubovic
Writing credits: Melina Pota Koljevic, Srdjan Koljevic, Nenad Teofilovic
Principal actors: Nebojsa Glogovac, Natasa Ninkovic, Miki Manojlovic, Anica Dobra, Bogdan Diklic
Serbian director Srdan Gikzbivic won the grand prize at the Film Festival Sofia for this engrossing film about the ultimate moral dilemma: should you commit a cold-blooded murder to save your son's life?
Mladen (Nebojša Glogovac) and Marija (Nataša Ninkovic) have a wonderfully warm marriage and a happy life with their nine-year-old son Nemanja (Marko Durovic). She has a decent job teaching English in a high school; he's manager of a construction company which is expected to be sold well. And then the unthinkable happens: Nemanja collapses and is diagnosed with a severe heart defect requiring an immediate EUR 26,000 operation in Berlin which is not covered by the Serbian national health insurance.
The film explores the family's efforts to raise the money and the consequences on the marriage (and their son) of their exhaustive unsuccessful attempts to raise the money. Mladen, as the father and head of the family, experiences the failure profoundly. And then an ad they have put in the newspaper bears fruit. A man offers Mladen EUR 30,000 to eliminate an "enemy of the state". As Nemanja's health deteriorates, Mladen wrestles alone with his impossible dilemma, unable to discuss it with his wife. What happens is unsettling and has unexpected consequences.
The lead actors are excellent, but I do have a quibble with the role of the young boy, although I suspect that the woodenness of the performance is more the director's fault than the actor's. Since the role is a relatively small one, if pivotal to the story, it doesn't really affect the film's strength or suspense, but it is the reason I did not give it four stars. (Adele Riepe)