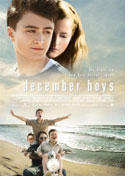 Opening 11 Oct 2007
Directed by: Ron Hardy
Writing credits: Michael Noonan, Marc Rosenberg
Principal actors: Daniel Radcliffe, Lee Cormie, Christian Byers, James Fraser, Jack Thompson
Four friends from a Catholic orphanage in the Australian outback get the birthday present of a lifetime when they are offered a two-week vacation in an idyllic bay on the ocean. What the boys have in common is their birth month, and so the December Boys are sent off at Christmastime on an unexpected adventure, full of unknown possibilities.
As the boys have gotten older, they realize their chances of being adopted are fading. But a young, childless couple they encounter at the coast is interested in adopting, and so the boys begin to vie for attention, each hoping to be the lucky one chosen to be part of a family. The oldest of the group, Maps (played by Daniel Radcliffe of Harry Potter fame), pulls himself out of the running when he meets the niece of a local resident who is visiting for the holidays. He promptly becomes smitten, and at sixteen prefers to pursue romance over the possibility of acquiring parents. The ensuing rivalry amongst the other boys sorely tests their friendships and loyalties and leads each of them to question what is really important in their lives.
The idyllic weather and scenery offer opportunities for seaside adventures and discoveries, and the boys enjoy their carefree days, which are nonetheless interspersed with a few poignant moments. The local residents are bemused with the sudden appearance of children in their midst, and their reactions to and interactions with the boys develop over the course of the film. By the end, the adults and children have formed their own special bonds and enriched each others' lives.
Harry Potter fans may be interested to see Radcliffe in a totally different role, and he shows that he doesn't need wizardry to present a solid acting performance. The cast is uniformly excellent, made up of largely unknown (outside Australia) Australian actors, who portray three-dimensional characters with simple realism. The scenery is exquisite, with stunning aerial views of Kangaroo Island and its remote bays. Based on the book by Michael Noonan, this is not your typical, commercial holiday film, but a heart-warming, coming-of-age story. (Erica Fox Zabusky)